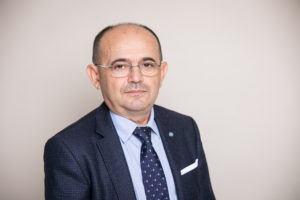 By Dafin Muresanu
Dear EAN members,
Dear colleagues and friends,
As the Home of Neurology in Europe, the European Academy of Neurology (EAN) actively engages and establishes contact with major subspecialties within the field of neurology.  This is a vital element in the EAN Communication Committee's strategy to build fruitful and lasting cooperation and partnerships with various neurological communities in Europe and indeed throughout the world.
One such example, is the close collaboration between EAN and the European Federation of NeuroRehabilitation Societies (EFNR) which can be seen through the recent success of a special EAN session at the European Congress of NeuroRehabilitation (ECNR) which took place from October 9 to 12 this year in Budapest, Hungary.
In a recent article published in the August 2019 issue of the EAN Pages, we presented the framework based on which the collaboration between the EAN and the EFNR is currently unfolding. The Memorandum of Understanding between the two organizations, signed in 2017, is the guiding document that formally governs this partnership, which is structured on three key pillars for development: facilitating evidence-based clinical guideline production, promoting multidisciplinary education, and hosting joint sessions within the main scientific events organized annually by these institutions. This article will focus on the latter priority for our collaboration, with the goal of disseminating relevant updates how our community benefits from the interaction between the EAN and the EFNR. Details of  ECNR 2019 are available here.
Another recent example of the EAN's efforts to partner with other societies is its continued collaboration with the World Federation of Neurology (WFN), exemplified by recent participation in the World Congress of Neurology, which took place from October 27 to 31 in Dubai, United Arab Emirates. The European Regional Symposium was chaired by Professor Claudio Bassetti, EAN President-Elect, and Professor Günther Deuschl, EAN Past-President, with Professor Dafin Muresanu, Chair of the EAN Communication Committee delivering a lecture. The symposium covered a wide variety of important topics, including post-stroke neurorehabilitation, regional disparities in neurological care across Europe, and sleep and stroke. We hope to continue such special symposia at the World Congress of Neurology in future to keep the international community of neurologists aware of the EAN's work and to highlight challenges unique to Europe.
Autumn has therefore been a highly successful and productive period for EAN's Communication Committee. We will keep striving to maintain these close and mutually beneficial collaborations with other neurological societies into the future.