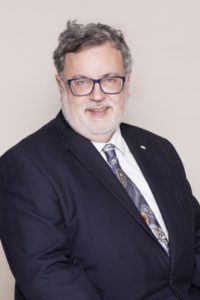 The Scientific Committee is fully committed to a great mission: To increase and share the best clinical knowledge and the cutting-edge information from translational research in all neurological fields. Main actions are i) to facilitate exchanges and synergies with the Scientific Panels ii) to support the Guideline Production Group (update and diffusion of expertise and best clinical practice), iii) to interact positively with other scientific societies with reciprocal exchanges and liaise with the European Affairs sub-Committee to increase the awareness of Neurology in Europe.
For the current term, our main objective is to foster joined actions at every level.
We need you, with your energy, creativity, expertise and diversity, and we thank you in advance for your commitments, for the best present and bright future of our community.
Every month, you will find an original self-portrait of one Scientific Committee member, who will respond informally to the same 5 questions. Here we go!
What does inspire you outside neurology?
I have always been fascinated by those scientists who are able to collate evidence from different disciplines to answer scientific questions, such as using information from genetic, archeology, linguistic, ethnography, to study population migrations.
What are the lessons learned from your mistakes?
To keep the threshold of clinical attention high and increase the doubt in the current practice.  To share decisions with patients and carers as much as possible.
If you would be a comic character, who would you be?  
Goofy, because of  his  capacity to often find simple and unexpected solutions to complex problems.
If you had not entered your current profession, what would you have liked to do?
No doubt, the archeologist!
What is your idea of a perfect day?
To walk in the mountains or sailing along the day and cook dinner for the persons I love, sharing projects for the future.
Maurizio Leone works at the Casa Sollievo della Sofferenza, Department of Neurology, in San Giovanni Rotondo. He is chair of the EAN Guideline Production Group and is member of the EAN Scientific Committee.