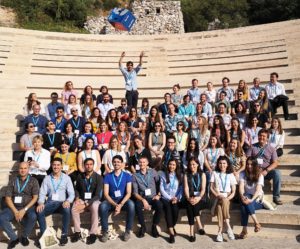 Following the big success of last year's 1st Autumn School, EAN again welcomed 61 participants from 22 countries – Albania, Armenia, Austria, Denmark, Georgia, Greece, Israel, Italy, Kyrgyzstan, Latvia, Luxembourg, Moldova, Montenegro, Poland, Portugal, Romania, Russia, Serbia, Switzerland, Turkey and Ukraine. Loutraki, formerly known for its' natural thermal springs, is close to Corinth and the archaeological site and village of ancient Corinth, about 80 kilometres west of Athens.
The autumn school lectures focus on how to approach a specific clinical syndrome in order to reach diagnosis and treatment. This year, the courses were enriched by guided interpretations of disease-specific imaging patterns, related to the main topics. This way, participants learned like in a real-life setting, how to deal with a given clinical situation.
This represents a different approach from the spring school, or many regional teaching courses, which are topic- or disease focused.
For the afternoon workshops, participants were divided into 3 groups of 20 persons each, to foster  interactive hands-on and case-based discussions with the faculty members.  A great innovation and special offer for Autumn school participants is, that the local speakers bring in one of their patients. This year, 2 patients came, and our participants were able to talk to and learn from their persona l point of view. It was a great experience for all participants, but also the patients said that they enjoyed being able to contribute to the education of neurologists and they were thankful that neurologists in training are so interested in learning.
The 2019 programme was:
Day 1: Cognitive dysfunction and headache – Image patterns and clinical presentations
Day 2: Cognitive dysfunction
Day 3: Headache
The official start was Thursday evening when all participants were welcomed by Roland Wiest, member of the Teaching course subcommittee in charge of the Autumn School and Maria Stamelou, local organiser and Autumn School taskforce member.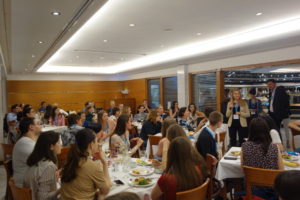 On Day one, Roland Wiest (Switzerland), Roberta Messina (Italy) and Reinhold Schmidt (Austria) spoke on " Image patterns and clinical presentations in cognitive dysfunction and headache", and in detail on Incidental findings and overuse of imaging, typical imaging findings related to headache as well as related to cognitive dysfunction. The first afternoon workshops combined a case-based workshops Imaging interpretation in general, in dangerous headache and in rapidly progressive cognitive decline.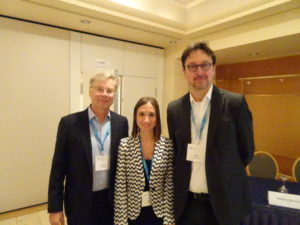 After the first full day, all participants and speakers were invited to a boat trip through the canal of Corinth, an amazing 6.4 kilometres long and only 21.3 metres wide waterway, carrying ship traffic between the western Mediterranean Sea and the Aegean Sea, cutting through the Isthmus of Corinth that connects the Peloponnesian peninsula to the Greek mainland, thus effectively making the former an island.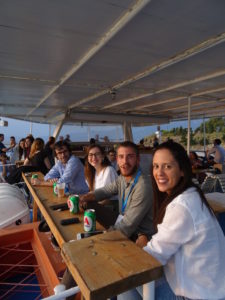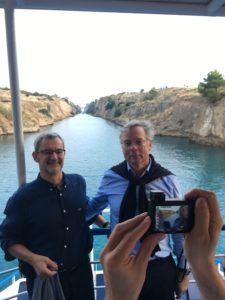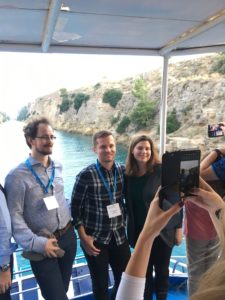 Afterwards, the evening ended in an entertaining Greek celebration with delicious food, dance and music.
On day two, the main topic and condition the speakers lectured about was "cognitive dysfunction", and Sokratis Papageorgiou (Greece), Elizabeta Mukaetova-Ladinska (UK) and Elka Stefanova (Serbia) informed the participants on rapidly progressive cognitive dysfunction, how to approach a patient with MCI – Chronic disease Alzheimer's and FTDs, and dementia as part of other neurodegenerative conditions. The afternoon workshops were on neuropsychological testing in dementia for the non-neuropsychologists, case presentations on AD or familial FTD and a patient presentation suffering on autoimmune dementia, accompanied by his wife to inform on earlier episodes of the patient's life and the impact in their quality of life.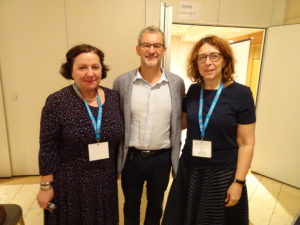 The evening was networking and education likewise, but in a more leisure surrounding: a scientific dinner. The RRFS talk was a good kick-off, and Francesco di Lorenzo could inform everybody on how to start their career as junior neurologist in Europe, what grants and possibilities there are available and how to become an active RRFS member also within the EAN committees and scientific panels. In between the menue-courses, the lecturers showed educative cases that are a bit out of the ordinary, one being on "Space-headache".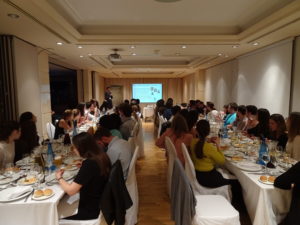 The last day focused again on headache. Michail Vikelis (Greece), Stefan Evers (Germany) and Patricia Pozo-Rosich (Spain) went into detail on headache as an emergency, chronic headache and comorbidities of headache. The last three afternoon workshops were dedicated to cluster headache, comorbid migraine and the journey of headache patients – a practical approach with patient involvement.
After a successful exam, the participants received their certificate of attendance.
The second EAN Autumn School ended in a leisure dinner and a relaxed good-bye party.
We would like to thank all Participants for giving us their evaluations to help us in our steady endeavour to improve and give feedback to our faculty.
If you are interested in participating in one of the EAN Schools, you do now have the opportunity to apply for the next EAN Spring School! Deadline is 31 January 2020. More information can be found here: https://www.ean.org/Spring-School.2711.0.html