Dr. Giacomo Tondo
I would like to express my deepest gratitude to the European Academy of Neurology for having granted my research training Fellowship at the Neurodegeneration Imaging Group (NIG; www.nig-politis.com), based at the Maurice Wohl Clinical Neuroscience Institute, Institute of Psychiatry, Psychology & Neuroscience at King's College London, UK. The NIG is headed by Professor Marios Politis, who is leading expert in the field of neuroimaging in neurodegenerative diseases.
I met Professor Politis and some members of the NIG at the third EAN congress in Amsterdam, and I was immediately impressed by their passion and brilliance and, thanks to the EAN research training fellowship, I had the great honour to join the NIG. The group, composed of knowledgeable clinicians, excellent researchers in neuroscience and by motivated students, represents an inspiring international environment for acquiring both clinical and research skills in the field of neurodegenerative disorders. Above all, the NIG is composed of very talented, amazing people, who treated me as a member of a family since the first day of my fellowship, constantly taking care of me like one of their best friends, allowing me to grow from a professional and personal point of view.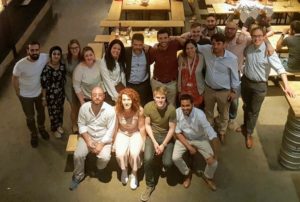 During my fellowship, I was involved in several projects. The main project, Tracking myelin changes in vivo with [18F]-florbetapir PET and MRI in patients with multiple sclerosis, was granted by the EAN training research fellowship.  The project on Hybrid PET/MRI application in movement disorders produced a published paper[1]. I also performed data collection, analysis and review in the work on Neuroinflammation in multiple system atrophy, on which my residency thesis was based, and in the review tau-PET in neurodegenerative diseases. During my research activities, under the supervision of Professor Politis and the constant support of Gennaro Pagano and Heather Wilson, I improved my competence in neuroimaging data analysis, results interpretation and review and manuscript writing, always flanked by the other members of the NIG. Living in a such stimulating environment increased not only my knowledge in the field but also my methodological planning and my critical approach to the literature. My commitment has been amply repaid, and I had the honour to be nominated for the Emerging Talent Award at the NIG Master Meeting 2018.
During the fellowship, I attended the weekly research MDT meetings, where clinical cases of interest and scientific hot topics coming from literature were critically discussed. With regards to clinical activities, I attended the Movement Disorders Clinic, run by Professor Politis and his fellows and consultants, who are very passionate and knowledgeable clinicians (and I want to thank Dr. George Dervenoulas, Dr. Edoardo de Natale, Dr. Flavia Niccolini and Dr. Gennaro Pagano for the careful and enriching supervision) who gave me the opportunity to also improve my clinical skills.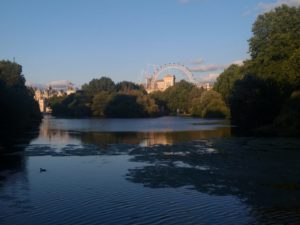 Beyond the scientific side, I had the opportunity to live in (and enjoy) London. London is an outstanding city, a multicultural dynamic and exciting ambience, which allowed me to see amazing places, to meet wonderful people, and to make enduring friendships. I lived in London in the year of Football World Cup, and I like to think to my fellowship as being similar to the road of England in the competition: it started with some criticism, then the expectations increased together with the enthusiasm, at the end the results were greater than expected, with the awareness of a solid base for a brilliant future.
For all these reasons my fellowship at the NIG was an amazing experience, and I am extremely grateful to the EAN for having given me this opportunity.
Dr. Giacomo Tondo
University of Piemonte Orientale
Novara, Italy
[1] Tondo G, Esposito M, Dervenoulas G, Wilson H, Politis M, Pagano G. Hybrid PET-MRI Applications in Movement Disorders. Int Rev Neurobiol. 2019;144:211-257. doi: 10.1016/bs.irn.2018.10.003.