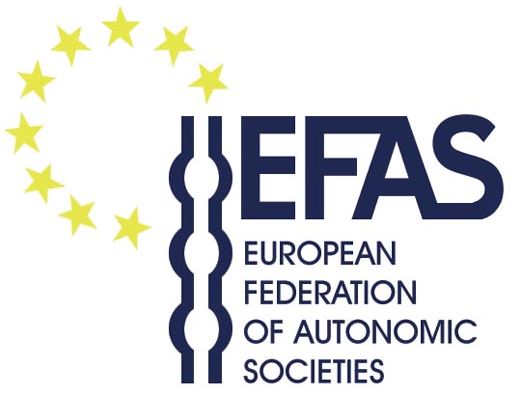 The autonomic nervous system (ANS) is in some ways distinct from other parts of the nervous system: ANS function cannot be easily measured, only some ANS parts are accessible to imaging. Moreover, working in the field of ANS requires a multidisciplinary approach to clinical problems and often involves other specialities such as cardiology, gastroenterology, dermatology, and urology.
However, autonomic dysfunction often severely reduces quality of life, and increases morbidity and mortality. Cardiovascular, thermoregulatory, and gastrointestinal dysfunction are quite common and may be well managed.1-4
So far, there is no European curriculum regarding teaching and training of ANS contents. Education is currently only available at distinguished sites throughout Europe that take special interest in autonomic disorders and therefore provide dedicated training.
Given the complex anatomical, clinical, and epidemiological aspects of the ANS, the European Federation of Autonomic Societies (EFAS) pursues the major goals to increase awareness and to advocate teaching and diagnostic training as well as the therapeutic management of syndromes associated with autonomic dysfunction.
EFAS was founded in 1998. EFAS is a scientific umbrella society coordinating activities of the national autonomic societies in Europe. EFAS focuses on the multidisciplinary approach and studies of the autonomic nervous system and includes various clinical fields such as neurology but also basic sciences such as physiology.
Education and advocating training aspects were started in 2008. Since then EFAS organises regular teaching events. EFAS held successful joint meetings and joint sessions with other societies, including the American Autonomic Society and the European Federation of Neurological Societies (EFNS), which was one of the two founding societies of EAN.
EFAS is proud and happy to have its first joint congress programme organized during the EAN Congress this year. We are looking forward to the joint sessions that include a symposium entitled Highlights in the expanding arena of autonomic disorders, where several important advancements in the development of neuroprotective strategies for multiple system atrophy and the role of ANS in epilepsy, multiple sclerosis and aerospace medicine will be discussed. A teaching course How to approach disorders of the autonomic nervous system, which is a joint EAN/International Neuro-Urology Society (INUS) proposals and fulfils the EFAS School core curriculum, the fundamentals of the diagnostic work-up of ANS disorders will be covered. In an interactive session How to manage symptoms of autonomic failure the audience will be provided with evidence-based management strategies to treat cardiovascular dysautonomia, urogenital dysfunction, dysphagia, gastrointestinal dysmotility and stridor. A focused workshop Autonomic nervous system and digestive tract: NEW Insights, will review the complex interactions between gut and brain denominated the "gut brain-axis". Finally, since young neurologists are generation Y, the career development session the role of the neurologist in the area of big data will introduce the emerging opportunities as well as pitfalls of the semiautomatic analysis of large data collections.
In addition, EFAS will hold an autonomic examination during the 2020 EAN Congress. The examination is not a legally required test but may help to document advanced knowledge of clinical autonomic disorders and their management.
EFAS has annual meetings and organizes joint meetings with major European or international scientific bodies every second year. We look forward to a certainly successful joint congress programme with EAN and hope for future joint meetings with EAN.
We cordially invite all of you to join our sessions during the EAN Virtual Congress in May 23-26, 2020 (https://www.ean.org/congress-2020)!
Walter Struhal, EFAS President,Max Hilz, Alessandra Fanciulli, and Mario Habek are members of the Management Group of the EAN Scientific Panel on Autonomic Nervous System Disorders. Roland Thijs is EFAS Secretary.
1. Brignole M, Moya A, de Lange FJ, et al. 2018 ESC Guidelines for the diagnosis and management of syncope. Eur Heart J 2018;39:1883-1948.
2. Jordan J, Fanciulli A, Tank J, et al. Management of supine hypertension in patients with neurogenic orthostatic hypotension: scientific statement of the American Autonomic Society, European Federation of Autonomic Societies, and the European Society of Hypertension. J Hypertens 2019;37:1541-1546.
3. Fanciulli A, Jordan J, Biaggioni I, et al. Consensus statement on the definition of neurogenic supine hypertension in cardiovascular autonomic failure by the American Autonomic Society (AAS) and the European Federation of Autonomic Societies (EFAS) : Endorsed by the European Academy of Neurology (EAN) and the European Society of Hypertension (ESH). Clin Auton Res 2018;28:355-362.
4. Bedside Approach to Autonomic Disorders: Springer, 2017.