The Second Pilot of the CoCoCare Course Has Started!
The CoCoCare consortium is delighted to announce that the second pilot of the course has started in August 2020. 33 neurology residents from 14 European countries have enrolled to participate in the second pilot. Due to the COVID-19 pandemic, the structure of the course has changed and the course is now provided fully online. The residents started in August 2020 with six e-learning modules, in which they learned the basics of clinical guideline development, evidence- based decision-making, evidence to decision frameworks, high quality patient-centered care, cost-conscious care, and implementation of guidelines in medical practice. From September 2020 onwards, the residents have been working on various tasks to deepen their knowledge of clinical guideline development with the help of the trainers.
Second Pilot Kick-Off Meeting
In September 2020, the second CoCoCare pilot course has officially started. We conducted the first kick-off webinar, during which the course participants met each other and some of the trainers and discussed their motivation to participate in the progam. Because of the current pandemic, we were not able to meet the participants for a face-to-face workshop. Therefore, we will instead organize biweekly webinars to provide additional opportunities for interaction.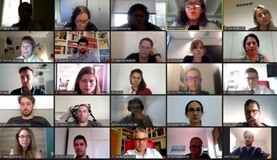 CoCoCare Testimonials: Participant of the First Pilot
"I would like to express my deepest gratitude to the European Academy of Neurology for granting me with a one year CoCoCare program. This gave me the opportunity to improve my knowledge in the principles of medical guidelines development, systematic reviews and metanalysis. As a result of this program I had an opportunity to present my project entitled "Cost-effectiveness of device- aided therapies in Parkinson's disease: a structured review" during EAN Congress. This is a structured review, which was performed based on tools and knowledge gained during CoCoCare program. Additionally, after completing the program I received the fellowship under supervision of Prof. Günther Deuschl to develop EAN/MDS guideline on treatment of Parkinson's disease. I am deeply grateful to the EAN for having given me this extraordinary opportunity. I had the chance to work with outstanding faculty. This experience will always have a deep influence on my scientific career." Katarzyna Smilowska, MD, PhD