by Can Ebru Kurt – Final Report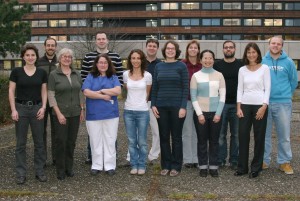 Neuromuscular diseases did always grab my attention during my residency. Due to the rising importance of skin biopsy and its usefulness in the diagnosis of vasculitic neuropathy as well as small fiber neuropathy, I aimed to study in this field. As in my thesis I studied the activation of RAGE pathway in vasculitic neuropathy, axonal neuropathy and hereditary neuropathy with liability to pressure palsy patients' nerve biopsies I decided to extend my research by analyzing this pathway in the skin samples of different neuropathies. The EFNS Investigator Award on Neuropathy that I won in the 14th EFNS Congress (2010) gave me courage to apply for the EFNS Fellowship Grant. After a brief research, I discovered that the Würzburg University is one of the best places around the world to work in a neuromorphology laboratory.
As a clinician, I had never had an opportunity to spend such a long time in a laboratory. During six months, I learnt with detail about the assessment of the nerve, muscle and skin biopsies and the techniques of immunohistochemistry. Moreover by attending weekly pathology meetings of neuromuscular group, I gained knowledge of diagnosing the neuropathies and myopathies by combining clinical, electrophysiological and pathological findings.
Although I cannot speak German, I did not encounter any difficulties as all the technicians can speak English and they are very friendly just like all the biologists, doctors and other colleagues coming from other countries around me. On the other hand, language made it difficult to understand the clinic meetings.
Prof. Sommer is everything a great teacher should be. I was always impressed with her kindness, patience and generosity. She did not only support me academically and also gave me advices to live in Germany more fully.
Working with Dr. Üçeyler, a Turkish origin doctor at the university, was not only a great pride and honor to me, she was also very helpful to my project and helped me settle in Würzburg.
Würzburg is a small, cozy city. It has a historic centre and bridge which has magnificent view. And in the nice weather spending time on the bridge by drinking delicious Franconian wine is like a custom.
I owe an enormous debt of thanks to my home institution Hacettepe University Neurology Department and very grateful to its acedamic staff who supported and inspired me in this project.
Last but not least: special thanks to EFNS for giving such a fantastic opportunity by funding my project which was absolutely very educative and gave me courage for my future career in Turkey.