by Serefnur Öztürk
The Turkish Neurological Society (TNS) was founded in 1992 as an organisation of neurologists and other professionals dedicated to neurology and neurosciences.
Objectives and activities of TNS are to promote studies of neurology, to contribute to the improvement and expansion of education and research in this field, to facilitate communication among its member as well as among related organisations both in Turkey and abroad, to hold general meetings, congresses, local CME meetings, to issue journals and other publications, to establish and operate various commitees, to conduct activities in cooperation with various related societies both in Turkey and abroad, to conduct activities required to fulfill the objectives of the society, to establish exchange programmes, to establish organisations for epidemiological studies and to improve prevention programmes with government and the Turkish Medical Association, to contribute manpower studies, to contribute and improve health politics.TNS currently has approximately 2100 members.
Neurology training in Turkey
Neurology training in Turkey is based on activities necessary for the development of clinical skills and the absorption of knowledge needed to provide good patients care (European Neurology Core Curriculum is used in the training centers ).
Currently there are 580 trainees (at the 54 University Hospitals and 26 Teaching Hospitals of the Ministry of Health)
Proficiency Board Formation (Turkish Board of Neurology)
Specialty proficiency boards in Europe and other parts of the world are gradually gaining in importance and assuming significant roles in the development, standardisation and accreditation of specialty training. A similar process is also in progress in the field of neurology and "Neurology Boards" of various countries are taking on a range of functions in this area. Although such developments are not uniform between countries, each country is now determining future objectives.
The Turkish Neurological Society (TNS) Executive Committee began its work in establishing a Proficiency Board in 2001. Studies done in collaboration with the Specialty Associations Coordination Committee of the Turkish Medical Association (TMA-SACC) were shared with TNS members and after a series of meetings the Neurology Proficiency Board and Committees were established according to TDA–SACC bylaws, in an election held during the meeting of the General Assembly in 2004. The Turkish Neurology Proficiency Board consists of the: 1) Executive Committee, 2) Evaluation Committee for Training Institutions and their programmes, 3) Examination Committee, 4) Supervision Committee, and 5) Higher Training Committee.
Main activities: To establish an improved and standard core curriculum and logbook, accreditation of the institutions and trainers to perform neurology board exams and organise education activities (Post-graduate training programmes (in/after residency educational & CME programmes).
The Board and the Committees organised their first meetings after being established and commenced their work in their respective fields. The Examination Committee began preparations to conduct the first Neurology Board Examination, which took place during the 40th National Neurology Congress in 2004. Turkish board examinations were done yearly since 2004 (described in detail in the web site of UEMS/Neurology section.)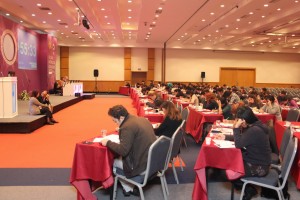 Turkish neurology board examinations
The Examination Committee began preparations to conduct the first Neurology Board Examination, which took place during the 40th National Neurology Congress in 2004. The examination Committee decided on eligibility for the examination, timing of the examination and location, collection of questions (we have a central question bank in accordance with the guidelines for question preparation and the distribution of subjects as provided.). The Examination Committee and the two training staffs from Ege University Department of Medical Education organise the exams.
The exam includes scenarios about 10 case evaluations and 90 multiple-choice questions selected from the question pool. Statistical results have been sent upon request to centers for feedback. It was decided that persons ranking in 1st, 2nd, and 3rd places would be presented awards as determined by the TNS. The examination result documents (prepared in detail for candidate to help self-evaluation) have been sent to the candidates. The examination questions and answers are published on the website of the Society. Board certificates were presented to the successful candidates. The board examination is conducted every year during the National Congress. (Table 1)
For this purpose centers are requested to prepare questions according to certain criteria to enrich the question pool. We were happy to host Prof. Alexandre Bisdorff (President of Section of Neurology, UEMS) in our last board exam during the National Neurology Congress in Antalya.
Board review courses
The Examination Committee organised the first Board Course in 2005, in Ankara. This course was prepared according to core curriculum of neurology training. It will also include daily short self evaluation exams. These courses have been sponsored by TNS and limited by 100 attendees to have interactive environment for five full days. More than 50 trainers from different education centers give lectures on their special interest areas. Course programmes are parallel to postgraduate core curriculum.
In parallel to the work of the Examination Committee other committees of the Board continue their activities for standardization of neurology training and accreditation of the training centers. As Turkish Neurology Board we will be very happy to host the 5th European Board Examination which will be held during the EFNS-ENS Joint Meeting in May, in İstanbul. This important event will make contribution to increase awareness for importance of standardisation of neurology education in Europe and we will be happy to use our experiences to support EBN exam for all the procedures.
 Serefnur Öztürk is Professor of Neurology in Konya, Turkey. She is President of the Turkish Neurology Board and Vice President of the Turkish Neurological Society.