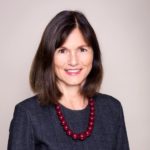 By Claudia Sommer
Hands-on courses include the active participation of the attendees. This course format is used whenever the learning objectives contain specific skills, as in neurophysiology, neurosonology, neuro-opthalmology, and movement disorders. A hands-on course may also involve clinical assessment and examination skills, or radiological interpretation, for example. Attendees may be asked to volunteer as subjects, while their colleagues practice and demonstrate the investigation, and roles will be switched during the course. This format not only helps to acquire skills in certain techniques, but also to understand how patients may feel when subjected to these tests. For example, nerve conduction studies, electromyography, and recording evoked potentials cannot be learned from theory alone, but need training, examples, practice, and guidance. Course sizes are matched to the content, such that each participant really gets their hands on. There may be several work-stations in one room, so that the participants rotate, guided by course facilitators. Depending on the content, a course may have a duration of 90 to 120 minutes.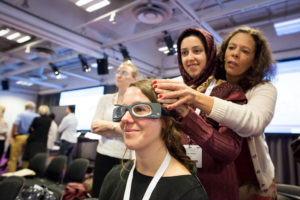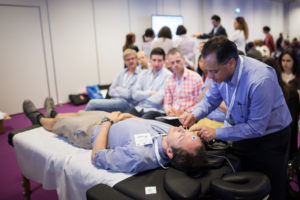 Like the classical teaching courses, the hands-on courses come in three levels. Level 1 courses are aimed primarily at young neurologists in training, or at those wishing to refresh their basic skills. This level may also be suitable for undergraduates or trainees with a particular interest, for example if they use a specific technique in the context of their thesis or other scientific project. An example of a Level 1 course in Amsterdam will be "Basics of neurophysiology in movements disorders". Here, participants will learn how to evoke and record brainstem and spinal reflexes as well as local field potentials, and will learn how to study myoclonus and how to differentiate functional disorders. Although this may sound complicated, there is no need to be afraid. Two renowned teachers will guide participants from the beginning through these challenging techniques.
Level 2 courses are intended for those who are already familiar with the basics of the technique or subject. These courses are aimed at specialist trainees or practitioners wishing to update and further develop their skills in the field. "Bedside examination of the vestibular and ocular motor system" is an example of a Level 2 course that will be held in Amsterdam. In addition to teaching the examination, it will also give practical advice for treatment. Be prepared to use your hands, open your eyes, and observe carefully in this exciting course!
Level 3 courses are advanced courses for participants with a particular training and interest in the respective field. There is no designated level 3 hands-on course in Amsterdam, but watch out for the next congress, where the presenters and facilitators will build onto the 2017 courses, and where some of the hands-on courses may become more advanced.
In all cases: After having taken part in a hands-on course, please let us and the presenters know what you liked, what you disliked, and what else you would like to learn next time!
List of all Hands-on courses during the 3rd EAN congress in Amsterdam, June 24-27, 2017:
Saturday, 24 June 2017
HoC 1: Monitoring and multimodal neuromonitoring – Level 1
Sunday, 25 June 2017
HoC 2: Assessment of peripheral nerves function and structure in suspected peripheral neuropathies – Level 1
HoC 3: Bedside examination of the vestibular and ocular motor system – Level 2
HoC 4: Neurosonology in the diagnosis of neurovascular disorders – Level 1
Monday, 26 June 2017
HoC 5: Electromyography: surface, needle conventional and single fiber – Level 1-2
HoC 6: Clinical and neurophysiological examination in patients suspected of neuropathic pain – Level 3
HoC 7: MDS-ES/EAN: Basics of neurophysiology in movement disorders – Level 1
Tuesday, 27 June 2017
HoC 8: MDS-ES/EAN: Neurophysiological study of tremor – Level 1