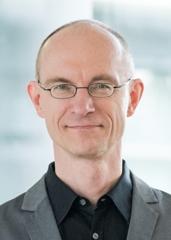 Holm Graessner, PhD, MBA
Coordinator Rare Neurologic Diseases – European Reference Network
Research manager in the Institute for Medical Genetics and Applied Genomics
Head of Research Management Unit
COO Centre for Rare Diseases
Antonio Federico (AF): On January 29-30, there has been in Tubingen the Kick-Off Meeting of the EU Project Solve-RD. You and Prof. Olaf Riess are coordinating this project. Can you summarize the aim and the activities of this important project?
Holm Graessner (HG): To obtain a molecularly confirmed diagnosis remains one of the largest challenges for rare disease patients. To jointly tackle this challenge a core group of four European Reference Networks including the European Reference Network for Rare Neurological Diseases has motivated, designed and put together the Solve-RD project which is the first ERN based H2020 funded research project. Solve-RD brings together 21 partners from 10 countries which will be running from 2018 to 2022. The main ambitions of the Solve-RD project are (i) to solve large numbers of RD, for which a molecular cause is not know yet, by sophisticated combined Omics approaches, and (ii) to improve diagnostics of RD patients through a "genetic knowledge web". Solve-RD will pursue a clear visionary and integrated "beyond the exome" approach.  To tackle diseases which are unsolved by applying cutting edge strategies, Solve-RD has formed a consortium that comprises (i) leading clinicians, geneticists and translational researchers of these ERNs, (ii) RD research and diagnostic infrastructures, (iii) patient organisations, as well as (iv) leading experts in the field of -omics technologies, bioinformatics and knowledge management. Solve-RD will deliver 7 main implementation steps:  (i) Collect Phenotypes, (ii) New phenotype patterns, (iii) Re-analyse exomes / genomes, (iv) Novel molecular strategies, (v) Functional analysis, (iv) Clinical utility and (vii) Towards therapy. For analysis Solve-RD will apply data driven and expert driven approaches. We anticipate to increase diagnostic yield from 19.000 unsolved exomes/genomes by about 3-5%. Cohort specific innovative -omis strategies will be pursud, also addressing cost-effective issues. Analysis of more than 800 patients with highly peculiar (ultra-rare) phenotypes will highly increase the chance to find novel disease genes and novel disease mechanisms. We anticipate to solve more than 2.000 cases. Finding further matching patients will be secured by newly developed matchmaking approaches and by screening using MIPs technology in the more than 20.000 unclassified patients of the ERNs. For the first time in Europe we will also implement a novel brokerage structure connecting clinicians, gene discoverer and basic researcher to quickly verify novel genes and disease mechanisms.
AF: Rare Neurologic Diseases are one of the most common conditions within the Rare Diseases. What is your feeling  about the knowledge of general neurologists about rare neurologic diseases and what do you suggest that EAN may do for improving it in the future?
HG: General neurologists USUALLY see rare neurological disease (RND) patients only a very few times in their professional life if at all. Therefore, we can not expect that general neurologists have a comprehensive knowledge about each of the RND. Instead, we strongly support that general neurologists need to have knowledge of red flags which help them to recognise potential RND in order to refer these patients to expert centres. Once accurately diagnosed at the expert centre, care of RND patients should be coordinated through cooperation of expert centre and general neurologist. Thus, with respect to what EAN may do, I would suggest that the EAN in cooperation with the European Reference Network for Rare Neurological Diseases develop a catalogue and possibly a training program for diagnostic red flags of RND.
AF: Do you consider that all European Countries have developed the same interest in Rare Neurologic Diseases or are there differences  and if yes, what the EAN can do to promote the interest in those countries?
HG: There are differences and I see three main reasons for the existing differences which are actually interlinked. First, depending on the number of inhibitants of the countries there is a huge difference  in terms of numbers of patients with RND. Therefore, the awareness for specific care needs for RND patients and the pressure on the respective healthcare systems to accomodate is differently developed. Second, healthcare of RND patients is not sufficiently funded in most if not all EU countries. Thus, interest in RND is at least co-determined by the economic status of the healthcare centres and systems which is again quite heterogenous in Europe. And third, interest in RND is almost always linked with research of RND. So being able to do – particularly clinical – research of RND has contributed to building extertise centres which are key to improve care based on research insights. Furthermore, through research funding can be obtained which often also helps to improve the economical situation of RND care provision.  So what can the EAN do to promote the interest in countries which have less interest in RND than others? I believe it is a combination of raising awareness, offering them affordable good quality care options (for example through care models to be developed in ERN-RND) and to encourage as well as to support them to engage in clinical RND research projects.
AF: You are the coordinator of the Rare Neurologic Diseases European Reference Network.  It is now  one year of ERNs activities: what change do  you expect in the care of rare neurologic diseases and in the attitude of general neurologists for Rare Neurologic Diseases?
HG: The first year of our network has mainly been spent to map existing infrastructure, activities and disease resources. The collected information will be made available through the ERN-RND website with its re-launch in March 2018. Based on this, we will start an awareness campaign and will reach out to the neurological societies in the European Union and by this hope to provide also the general neurologists with a knowledge resource that helps them to deal with RND patients in an appropriate manner. Furthermore, within the first year the Clinical Patient Management System (CPMS) has been launched which is virtual case consultation platform for the ERN. Depending on the development and implementation of appropriate national care pathways which includes triage and funding, the CPMS might offer the opportunity to access and utilise clinical RND expertise for patients and families seen and cared for by general neurologists.
by Antonio Federico, Chair EAN Scientific Committee