Scientific news: Narcolepsy
Currently the most discussed topic in narcolepsy research is the auto-immune hypothesis. Both animal and human studies have provided clues, but still no definite evidence regarding the auto-immune etiology of narcolepsy. Recent findings point towards T-cell related mechanisms (Lecendreux et al, PloS One 2017; Hartmann et al, J Exp Med 2016), but also a role for possible auto-antibodies is still suggested (Zandian et al, J Proteome Res 2017). Furthermore, the direct relation between narcolepsy and both the H1N1 flu and the vaccination against this flu (Partinen et al, Lancet Neurol 2014), remains a matter of debate. Regarding treatment, the newest drug for excessive daytime sleepiness and cataplexy in narcolepsy is 'pitolisant', a histamine receptor 3 inverse agonists (Szakacs Z et al, Lancet Neurol 2017).
European Guidelines on Management of Narcolepsy
Current treatment of narcolepsy refers to guidelines from 2006/2007 (Billiard et al., 2006; Wise et al., 2007). Following recent proceedings in the etio-pathology and treatment, a Task Force (TF) under acceptance and support of the European Academy of Neurology (EAN), the European Sleep Research Society (ESRS) and the European Narcolepsy Network (EUNN) was formed. The TF aims at working on a clinical guideline on the pharmacological and non-pharmacological treatment of narcolepsy symptoms and related comorbidities. For the development of this guideline, the GRADE method is used. The guideline will strongly relate to practice and, as novelty for a guideline, also includes patient representatives into the working group. In addition to the guideline, the Task Force is preparing a consensus statement on the diagnosis of narcolepsy, too. Both publications are expected in 2019.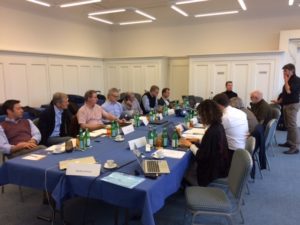 TF narcolepsy guideline, Lugano (CH), 2017
European Centres of Excellence for narcolepsy 
Narcolepsy is a rare disease and estimates suggest that approximately 1 out of 2000 persons in Europe is suffering from this disease [Oyahon et al., 2002].
In Europe, median diagnostic delay still is 8 years, mainly due to lack of awareness, recognition and an appropriate diagnosis.
The European Narcolepsy Network (EUNN) together the EAN sleep wake disorders panel works on the development of European Centers of Excellence for narcolepsy. This recent activity aims at improving management, education, awareness, and science of narcolepsy. Further, it shall promote national-supranational and European collaborations.
9th European Narcolepsy Day
The European Narcolepsy Network (EUNN) will host the yearly European Narcolepsy Day on May 5-6, 2018 in Montpellier, France.
This unique meeting is usually attended by several hundred persons, but not only by neurologists; sleep clinicians and researchers, but also by patients. The majority of sessions are held together. Program of this year includes basic and clinical research presentations but also focuses on psychosocial aspects of narcolepsy and will further discuss how to improve care and quality of life.
by Scientific Panel "Sleep-wake disorders"