by Prof. Dr. Serefnur Ozturk and Burak Tokdemir
The Republic of Turkey is a country with an extraordinary history and the home of 80 million people. As one of the three countries in the world that span within two continents, Turkey literally bridges Europe and Asia, and it also is the linchpin for the East and West. Turkey is surrounded by eight countries. Its largest city is Istanbul, with a population of 15 million people.
Across Turkey there is an eclectic fusion of traditional and modern western living, which makes for a colorful experience for any visitor. There is incredible longstanding history to explore (since the very early ancient period, 12.000-year-old Göbeklitepe –the first settlement of humankind, Çatalhöyük as a first village of the world) along with natural wonders not limited to Cappadocia, Troy, Hierapolis in Pamukkale, and a gorgeous coastline. Turks are famous for their warm hospitality. The most famous Turk is likely the founding first President, Mustafa Kemal Ataturk.
The Turkish health care system consists of a mix of public and private health services. Turkey boasts universal health care under its universal health insurance system. Under this system, all Turkish residents registered with the Social Security Institution can receive medical treatment free of charge in hospitals contracted to the Social Security Institution. According to the Turkish Statistical Institute, there are 884 hospitals, comprising National and University hospitals, with 125,030 inpatient bed capacity. The number of private hospitals in Turkey is 355 (data as of 2017).
In Istanbul, Neurology is founded as an independent department in 1924 in Istanbul University, Faculty of Medicine.
The neurological sciences field gained independence as a specialty during the last quarter of the 20th century, having formerly been a been a part of Internal Medicine. The first known neurology specialist was Lofcali Dervis Bey. Neurology education in Turkey is primarily provided in the native language, but there are universities that offer education in English.
Historically and in recent times, there have been significant contributions to the international neurology knowledge, like for Behçet's disease, which was first described in Turkey by Hulusi Behçet, and for restless leg syndrome by Prof. Dr. Şevket Akpınar.
There are around 5,000 neurologists in Turkey, more than half being members of the Turkish Neurological Society (n=2,798). Given that the population of Turkey is around 79.5 million, this means that there is one neurologist per 16,000 people.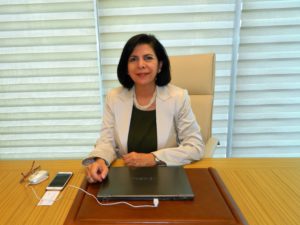 The Turkish Neurological Society (TNS) was established in 1992. The current President is Prof. Dr. Serefnur Ozturk (Selcuk University Faculty of Medicine, Department of Neurology, Konya). The aim of the society is to increase awareness of neurological diseases in Turkey, to investigate the impact of neurological diseases on public health, to perform preventive studies, and improve education and research facilities of professionals related to neurology.
Prof. Dr. Serefnur Ozturk, President of Turkish Neurological Society
Moreover, to increase the recognition of neurologic diseases, present their causes, diagnose and prevent these diseases, and bring together all neurologic fields such aschild neurology, neurosurgery, psychiatry, physical treatment and rehabilitation, neuro-ophthalmology, neuro-otology and psychologists, physiotherapists, and nurses. TNS comprises 28 Scientific Working Groups  and Special Interest Groups  (Epilepsy, Cerebrovascular diseases, Interventional Neurology, Neurointensive Care, Headache, Neuropathic pain, Pediatric neurology, Multipl Sclerosis, Neuroimmunology, Neurogenetics, Multiple sclerosis, Neuro-Behçet, Neuroepidemiology, Neuromuscular Diseases, Dementia and behavioral disorders, Neuronutrition, Algology, Neuromodulation, Quality of Life in Neurology, Walking and balance, Neuroophthalmology/Neurootology, Translational Neurology, Young neurologists, Sleep Medicine)
Scientific Working Groups Meetings
Neurology residency training program includes a prompt program according to the national core curriculum which is compatible with the UEMS EBN Neurology core curriculum and logbook (5-year duration; rotations and required special skills – Neuroradiology, Neurointensive Care, Neurophysiology (EEG, EMG, UP), sleep medicine, internal medicine, pediatric neurology, psychiatry, cardiology, physical treatment and rehabilitation). Research activities and thesis are required during the residency training. Before the official final exam, candidates are motivated to have Turkish Board Exam as an excellency mark for 15 years.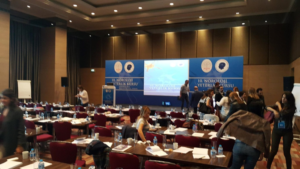 TNS members have been attending UEMS/EBN Board exam since 2010. (Since than 52 Turkish candidates have been awarded with diplomas (TNS was the first society outside European Union to attend the Board Exam). Prof. Şerefnur Öztürk is member of  the UEMS/EBN Examination Committee preparing exam questions and determining standards since 2009.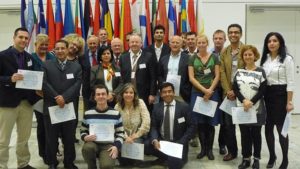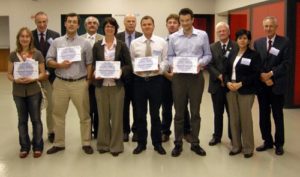 Turkey also hosted the first joint congress of ENS and EFNS in İstanbul (2014) and EBN Exam Candidates and Exam Team.
Turkish Neurological Society has been in very close relationship with World Federation of Neurology. World Brain Day celebrations are continuously organized in many cities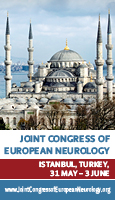 according to the defined subjects. This year, a powerful media release and important meeting has been held to increase awareness for air pollution and brain health.
Turkish attendees and environmental team, with the contribution of Prof. Jacques Reis (Chair of the Environmental Neurology Applied Research Group –ENRG).
Turkish Initiative for the Neurology Department Visit for African Neurologists started in 2012. Since then, three initiatives have been made; the fourth one will be held this year 15 November – 15 December including four centers.
Previous visitations and fellows are: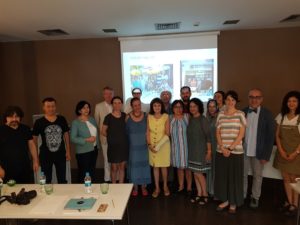 Philip Babatunde Adebayo, Nigeria
Istanbul University Cerrahpasa Turkey
Dr Mehila Zebenigus, Ethiopia
Hacettepe University Turkey
Dr Obiabo Yahaya Olugbo, Nigeria
Istanbul University Cerrahpasa Turkey
Abdullahi Ibrahim, Nigeria
Gazi University of Ankara
Fall, Senegal
Gazi University of Ankara Turkey
Atokè Mendinatou Agbetou, Houessou, Benin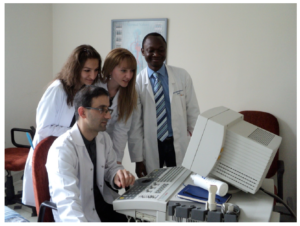 Istanbul University Cerrahpasa Turkey
Leonard Ngarka, Cameroon
Selcuk University Turkey
With the current difficult political situation in Syria, and the mass movement of at least 3.5 million people across the border into Turkey, there is a great number of people suffering from chronic disorders, and other conditions that have been undiagnosed or undermanaged. This means a great challenge for neurologists in Turkey, especially in areas with large numbers of refugees. It will require new approaches and strategies for the health care in our country which is home to the world's largest refugee population.
The Annual National Neurology Congresses have been held for decades as a most important educational and social event by the TNS with 1,500-2,000 attendees. Recently, the congress has introduced international speakers. Treatment sessions, breakfast sessions, workshops, courses, special sessions like "Neurology in the Region- with contribution of presidents or delegates of the countries from the shared geographic area" are the continuous educational activities beside the activities and meetings of Scientific Working Group during the year.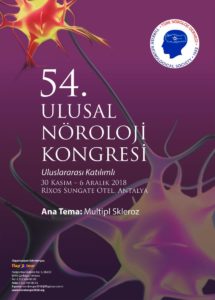 This year we will be organizing our 54th National Neurology Congress, with Multiple Sclerosis as main theme. The congress has been accredited by EAN and Turkish Medical Association for years.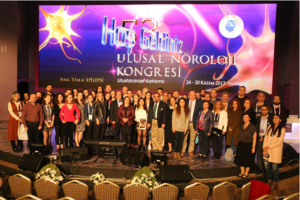 Turkish Neurological Society also give utmost importance to online education. www.noroloji.tv.tr powered by mediasite © is hosting most of our congress videos and presentations and our regional courses.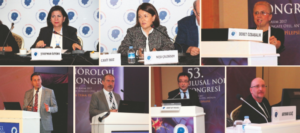 Turkish Neurological Society
President: Prof. Şerefnur Öztürk, Vice President: Prof. Neşe Çelebisoy, General Secretary: Prof. Dr. Demet Özbabalık Adapınar, Treasurer: Prof. Cavit Boz, Member: Prof. Nerses Bebek, Member: Prof. M. Akif Topçuoğlu, Member: Prof. Dr. Kayıhan Uluç.  (From left to right)
Prof. Dr. Serefnur Ozturk is President of  Turkish Neurological Society, Selcuk University, Konya, Turkey
 and Burak Tokdemir is General Manager of the Turkish Neurological Society, Ankara, Turkey