Aiming to improve the conditions of people living with neurological disorders, the European Federation of Neurological Associations (EFNA) will focus on three advocacy themes for 2020-2025:
Access to treatment, services and support
Stigma, isolation and discrimination
and
Patient empowerment, engagement and involvement
To mark Brain Awareness Week 2020 (March 16-22) EFNA has announced new initiatives in these areas:
#BrainLifeGoals Project Grants 2020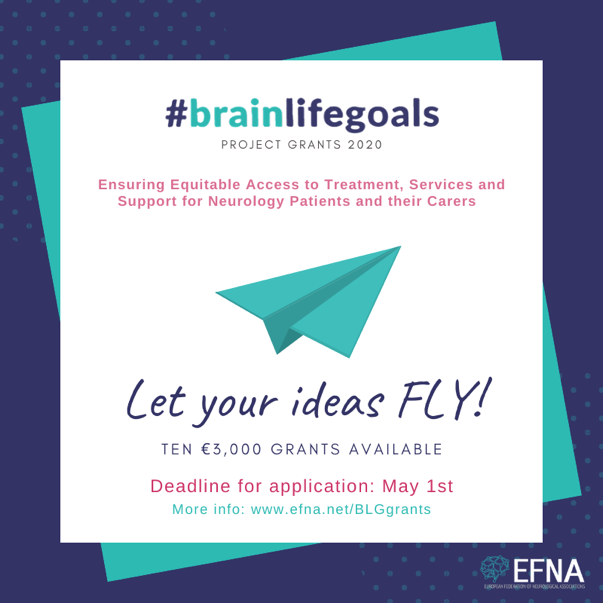 In 2020, within the framework of our #BrainLifeGoals campaign, EFNA will once again provide grants to support work on one of our three thematic focus areas for the coming years. This year the focus will be on:
Ensuring Equitable Access to Treatment, Services and Support for Neurology Patients and their Carers
Access to treatment is one of the central #BrainLifeGoals of many neurology patients, and we want to help make that a reality across Europe! Therefore, EFNA will provide up to 10 grants of €3,000 each to selected organisations.
EAN's Prof. David Vodusek, Chair of the European Affairs Sub-Committee will join the judging panel, having been a speaker at EFNA's workshop on Access, held in Warsaw last November.
Closing date for applications: May 1st.
Find out about eligibility and requirements here: https://www.efna.net/blggrants/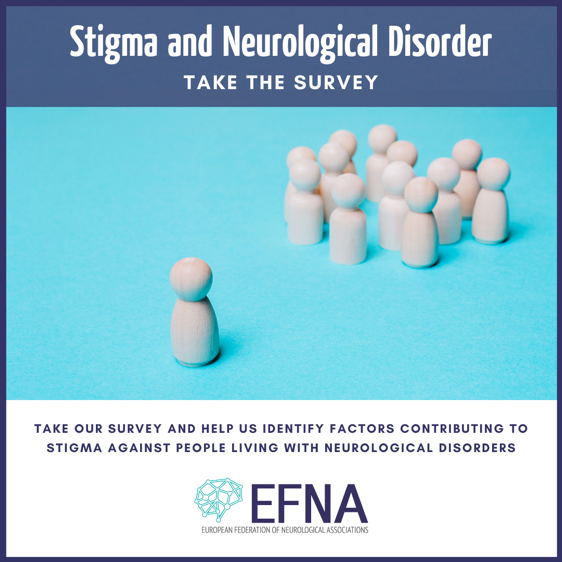 Survey on Stigma & Neurological Disorder
In 2018, EFNA conducted a survey of young people affected by neurological disorder, to assess the impact of these conditions on their lives. Stigma was identified as one of the biggest issues affecting respondents.
As a result, EFNA has decided to develop a new survey, delving deeper into this issue, exploring the areas where stigma is felt and the situations which give rise to it. By identifying these areas EFNA can focus attention where it is most required and move to develop strategies that will combat stigma.
This survey is open to anyone who is living with a neurological disorder, living in Europe.
The survey is available in 8 languages and will remain open until June 15th 2020.
Access the survey at: https://www.efna.net/efna-launch-survey-on-stigma-and-neurological-disorder/
EFNA publish Position Paper on Access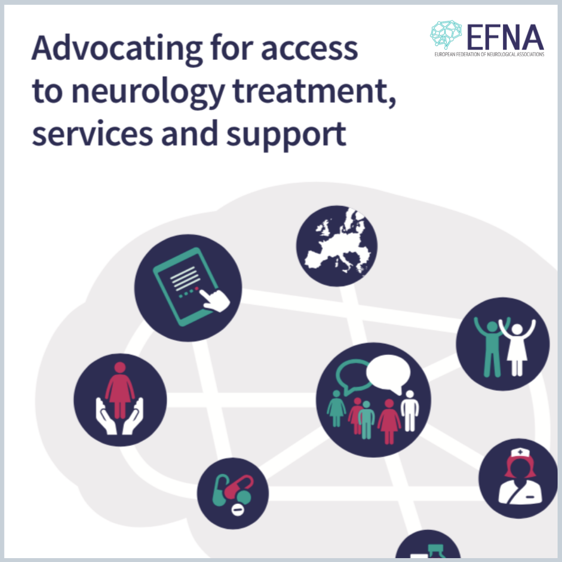 EFNA are pleased to publish this document, based on feedback from an EFNA workshop held in Warsaw in October 2019, attended by approximately 50 representatives of patient and health professional organisations, industry partners and other experts. The contents of this paper reflect the insightful and lively debates and the arising conclusions and recommendations.
These outputs have been captured to inform EFNA's strategic plan for 2020-2025, particularly on its focus area of 'ensuring equitable access' to neurological care for all patients in need. These recommendations define our way forward and are a proactive framework for action. Ensuring that the EFNA work programme is consistent and capable of impacting policy discussions throughout the 2019-2024 EU mandate is essential in order to make progress in the areas identified.


Read the Position Paper here: https://www.efna.net/efna-publish-position-paper-on-access/
————————————————————
EVENT: Digital Transformation of Health in the EU
Due to the evolving Coronavirus public health concerns, the March 16th meeting of the MEP Interest Group on Brain, Mind and Pain was postponed. Please keep an eye on www.brainmindpain.eu for rescheduling details. The provisional date is June 24th 2020.
The event will zoom in on the European Commission's communication on "Enabling the digital transformation of health and care in the Digital Single Market; empowering citizens and building a healthier society", as well as the Parliament's motion for a resolution on the same topic that was published in December 2019.


Find out more at: http://www.brainmindpain.eu/events/
————————————————————
Follow EFNA's social media channels to keep up with their latest news!
https://www.twitter.com/EUneurology/
http://instagram.com/EUneurology/
https://www.linkedin.com/company/11281270