When:
November 24, 2023
all-day
2023-11-24T00:00:00+01:00
2023-11-25T00:00:00+01:00
Where:
Novotel Wien Hauptbahnhof Vienna, Austria
Canettistraße 6
1100 Wien
Contact:
The European Academy of Neurology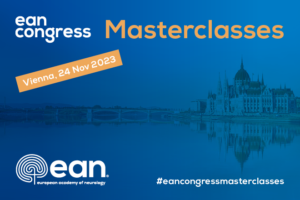 Overarching Theme of the EAN Congress Masterclass:
"Improving patient outcomes with FcRn inhibition in neuromuscular diseases." 
The programme was put together by the EAN programme committee according to the overarching theme and shall give participants the opportunity to deepen their knowledge in this area.
For preparation purposes, participants registered to the event have to watch the corresponding congress lectures on the EAN eLearning platform.
The on-site part will begin with a welcome session, followed by four parallel masterclass sessions with rotating audiences. At the end of the event, all speakers will summarize their courses in a closing session.
Speaker: Sarah Hoffmann, Berlin, Germany
Presentation of the conventional approach for MG
Speaker: Marianne de Visser, Amsterdam, The Netherlands
Therapeutic approaches in inflammatory myopathies
Speaker: Pietro Doneddu, Milano, Italy
Biomarkers and Outcome measures in immune-mediated neuropathies
Speaker: Carmen Paradas, Seville, Spain
Cancer related immune-mediated neuromuscular disorders