by Edina Timea Varga
The European Association of Young Neurologists and Trainees (EAYNT) is the independent representative of 800 junior European neurologists. EAYNT was founded in 1999 in Brussels.
The aim of the society is to advocate young neurologists interests in major European and worldwide bodies. In addition we promote European training exchange and try to enhance European national core curricula by comparing differences of medical specialisation and disparities in working conditions, level of education throughout Europe. We organise regular meetings on congresses and spread information relevant to junior neurologists (e.g. bursaries and fellowships). In addition we promote and co-organise teaching courses and summer schools.
EAYNT, in cooperation with the European Federation of Neurological Societies (EFNS) has arranged interesting events at the 16th congress of EFNS in Stockholm. Programmes included EAYNT Special Session and hospital visit, followed by a social event.
In order to give opportunity to personal connection, EAYNT shared a booth with EFNS at the exhibition area during the exhibition hours. Here young neurologists could join the association, meet colleagues and office members, get hands-on information on further activities, grant applications and give feedback on young neurologist matters and trends emerging in their country. The lucky participants of our quiz and lottery won a reflex hammer (Aliona Nacu, Moldova) and a T-shirt (Nadia Diaconu, Moldova). The main prize was an EAYNT travel grant, won by Barbara Ratajczak from Norway.
Interesting topics were discussed during the EAYNT Special Session on "European harmonisation of neurology education", thanks to the speakers:
EFNS Training and Education Committee – current pan-European activities (Jean-Marc Léger, Paris, France – Chair, EFNS Training and Education Comittee)
National differences in European residency training and current structures to promote European harmonisation (Walter Struhal, Linz, Austria)
Harmonisation of East European curricula (Cristian Falup Pecurariu, Bucharest, Romania)
Go abroad! Grants and support for European young neurologists (Laszlo Sztriha, London, United Kingdom).
This session, a joint proposal from the Training and Education Committee of the EFNS and EAYNT, was aimed at providing detailed information on European training curricula and initiatives of the EFNS to accomplish harmonisation of neurology training in Europe. The broad spectrum of neurology education in Europe was presented to the attendees and practical information on grants and activities to support training abroad were provided.
Thanks to the kind invitation of Professor Sten Fredrikson and his department, we visited the Department of Clinical Neuroscience, Karolinska Institute, where we had the opportunity to receive an update on neurology training in Sweden, as well as on the routine daily work of Swedish colleagues.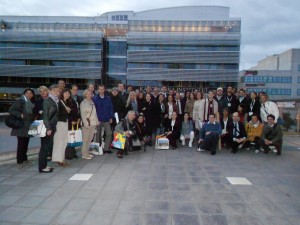 ( EAYNT members at hospital visit at Karolinska Institute)
After this tiring day we had a relaxing evening – the EAYNT social event – at a nice restaurant.
Members of the new EAYNT Office 2013 were eleceted at the EAYNT General Assembly: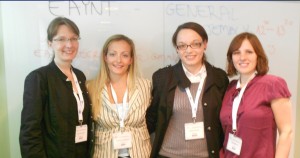 Antonella Macerollo, Italy – president
Orsolya Győrfi, Romania – secretary
Xenia Kobelea, Germany – treasurer
Edina T. Varga, Hungary – past president
We would like to thank the EFNS, the EFNS Management Committee and EFNS Head Office for the kind help and continuous support for arranging these programmes.
Further information and pictures are available on our renewed website (www.eaynt.org) and facebook profile.
Dr. Edina Timea Varga is EAYNT President and works at the Institute of Genomic Medicine and Rare Disorders at the Semmelweis University, Budapest, Hungary