28th Summer Stroke School – Healthy Lifestyle and Prevention of Stroke and Other Brain Impairments
June 5th – 9th 2017, Dubrovnik, Croatia
Primary objective of the course is to encourage cooperation and to promote exchange of knowledge between participants from different countries. The course is a meeting of respected scientists that work with stroke presenting and discussing all major aspects of stroke risk factors, as well as new insights in epidemiology, prevention, diagnosis, treatment and rehabilitation of stroke.
As brain diseases are increasing in number and became a major, not just medical, but also huge public health and financial problem, it was decided to widen learning objectives to other brain disease, not just stroke. According to data from scientific literature, it is obvious, that lifestyle modification has major role in prevention of brain impairment. Probably the major feature of the course is enabling exchange of experience among experts and comparison of data from various countries. Also, the course allows knowledge transfer between respected scientists from western countries and colleagues from central and eastern European countries working in the field of brain diseases.
More information can be found here.
************************************************
28th National Conference of the Hellenic Neurological Society
June 8th – 11th 2017, Kalamata, Greece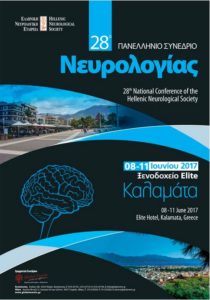 The Hellenic Neurological Society is a non-profit scientific organization and the official society of Greek Neurologists. The main objective of the H.N.S. is to promote Neurology in Greece, prevention, education, research in all fields of the neurological disorders.
The scientific program of the 28th national Conference of the H.N.S. includes 16 teaching courses, special issue round tables and thematic issues about the latest advances in the main neurological diseases. At the same time there will be sessions about the updated H.N.S. guidelines regarding the management of epilepsy, movement disorders, and dementia.
More information can be found here.
 ************************************************
ECTRIMS Summer School "Symptomatic treatment and rehabilitation"
13th -15th June 2017, Santiago de Compostela, Spain

The ECTRIMS Summer School will take place from 13 – 15 June 2017 at the Gran Hotel Los Abetos in Santiago de Compostela, Spain and is directed to young researches and clinical experts from different backgrounds (neurologists, rehabilitation physicians and multi-disciplinary therapy team) who want to generate and implement best evidence-based treatment and rehabilitation care.
The immediate objective is to understand the indications and concepts of symptomatic treatment and rehabilitation, and its effects according to the different levels of the international classification of functioning including taking account personal and environmental factors, and documenting ecological impact. Also, to be capable to integrate evidence from multiple disciplines into clinical case management and to propose important research questions and challenges for clinical implementation of holistic symptomatic treatment and rehabilitation.
More information can be found here.
 ************************************************
7th European Teaching Course on Neurorehabilitation
June 30th – July 2nd, 2017, Eforie Nord, Romania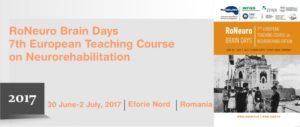 Society for the Study of Neuroprotection and Neuroplasticity is a scientific organization focusing on basic and clinical research, creating discussion forum to contribute to a better understanding of endogenous mechanism of brain protection and recovery and exploring better therapeutic paradigms to support this processes. A major topic of the 7th International Teaching Course on Neurorehabilitation will be to come to a resume where neurorehabilitation in Europe stands today and where future perspectives in science and education as well as in optimizing services shall go.
More information can be found here.
************************************************
12th International Summer School of Neurology
June 2nd – 6th, 2017, Eforie Nord, Romania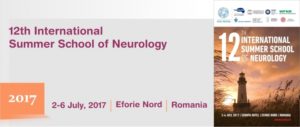 The addressability of this projects aim towards young neurologists all over the world. The International Summer School continues its tradition of convening classes that cover a changing landscape of developments in the neurological sciences.
The International Summer School's mission is to provide a platform where a select class of young neurologists-in-training can interact with a faculty internationally recognized for their expertise in both basic and clinical neurosciences.
More information can be found here.