The Republic of Belarus is situated in the Eastern Europe. It shares its borders with Poland, Lithuania, Latvia, Russia and Ukraine.
The total length of the Belarus borders measures 3,617 km, including 1,250 with the European Union. Its area is 207600 km2. The climate in Belarus is moderate continental. There are more than 20,000 rivers on the territory of Belarus. The largest rivers are the Dnieper, the Western Dvina (also known as Daugava) and the Neman. Belarus is called «blue-eyes», because there are more than 10000 lakes on its territory. The biggest lake is Narach (79.6 km2), whereas the deepest one is Dolgoe (53.6 m).
Agricultural land constitutes 41.1% of the territory of Belarus, the forests – 42.2%, lakes, rivers and marshes – 6.1%, other lands – 10.5%.
Minsk is the capital of Belarus. Belarus has six regions — Brest, Vitebsk, Gomel, Grodno, Minsk, and Mogilev regions, which are subdivided into 118 districts.
The population of the Republic of Belarus in the beginning of 2017 was 9,504,700, 77.9% concentrated in cities. The capital of Belarus, Minsk city, has a population of 1,974,800 – one fifth of the population of the country.
The population is composed by: Belarusians (more than 80%), Russians, Poles, Ukrainians, Jews, Lithuanians and other nations. State languages are Belarusian and Russian.
The Republic of Belarus is a unitary democratic social rule-of-law state. The current Constitution was accepted in 1994, with amendments and additions accepted on National referendums in 1996, and in 2004. The independence of Belarus was for the first time proclaimed in 1918; later, from 1919 and until 1991, the territory of Belarus was a part of the Soviet Union as Lithuanian-Byelorussian SSR until 1920, and then as Byelorussian SSR. Western part of the current territory of Belarus belonged to Poland since 1919 and until 1939. The independence of Belarus was declared again in 1991. The Independence Day of the Republic of Belarus is celebrated each year on July 3rd, which is the day of the liberation of Minsk from the German invasion in 1944.
The main branches of Belarusian economic include manufacturing industry, agriculture, construction, trading, and transportation.
The main role in the religious life of the country is played by Belarusian Orthodox Church. The Roman Catholic Church also belongs to traditional religions of Belarus. Moreover, in the republic are practiced Protestantism, Lutheranism, Judaism, Islam, Buddhism and other religions.
During the centuries-old history, the Belarusian nation developed a rich and distinctive cultural heritage. Belarus has significant cultural and historic foundation, represented by architecture, artworks, and collections in museums. Masterpieces of Belarusian art, which survived until our days, are protected by the state. They are preserved in the collections of the biggest Belarusian museums, in the library funds. The most important material values are included into the National list of cultural and historic values of Belarus.
The healthcare system of the Republic of Belarus continues to have government nature with budget funding. There are about 600 in-patient healthcare institutions functioning in the country, and about 1.5 thousand out-patient institutions; 17 republican research and clinical centers, 143 centers for hygiene and epidemiology, more than three thousand pharmacies, and 134 ambulance stations.
Nowadays healthcare in the Republic of Belarus is a 4-level system for providing medical care with clear organizational structure from paramedical centers to republican research and clinical centers. New technologies are being actively introduced to regional and inter-district centers.
There are four State Medical Universities in Belarus: the Belarusian State Medical University (BSMU), situated in Minsk, which is the leading higher medical educational institution of the Republic of Belarus; the Vitebsk State Medical University (VSMU); the Gomel State Medical University (GSMU); and the Grodno State Medical University (GrSMU). Each medical university has a department of neurological and neurosurgical diseases. Training at these universities takes 6 years for students of the faculties of Medicine and Pediatry, and 5 years for the faculties of Dentistry. Training of medical specialists is mostly provided in Russian language, with training in English available for foreign students.
The required post-graduate training for most specialties, including neurology, is 1 year of internship. During their internship, residents attend different departments and clinics, including larger hospitals, and finally took theoretical and practical exams. Further training consists of optional teaching courses at the Belarusian Medical Academy of Post-Graduate Education (BelMAPGE) and at the Republican Research and Clinical Center of Neurology and Neurosurgery (RRCCNN), latter being the leading institution in the area of neurology. Furthermore, neurologists can improve their skills during rough equivalent of what is called "Residency" in English-speaking countries: 2-3 years of study at the leading departments, including those of 4 medical universities, BelMAPGE and RRCCNN.
Depending on their experience and level of post-graduate education, neurologists (as well as other specialists) after a board examination may acquire a so-called "Category": the second category (usually after 2 years of experience), the first category (usually after 5 years), and the highest category (usually after 8 years). Category does not affect general right for medical practice, but specialists with higher categories are usually preferred by employers, have bigger salaries, and ones with the first and the highest categories can run private practice. In 2017, there were 1,216 neurologists working in Belarus (1.55 per 10,000 of population), 5,611 beds in neurological departments (7.2 per 10,000), including 1,899 beds in 20 stroke departments of larger clinics (2.4 per 10,000).
Intravenous thrombolysis for ischemic stroke was not a routine procedure until recent years. However, now it is being actively promoted, and in 2017 was performed in 312 patients (in 2016 – 177). Today, massive efforts are applied to make urgent neuroimaging available for all districts, and to speed up transportation of stroke patients to clinics able to perform thrombolysis.
The Republican Research and Clinical Center of Neurology and Neurosurgery of the Ministry of Health of the Republic of Belarus (RRCCNN) is our leading institution in the areas of neurology and neurosurgery. It has 4 in-patient neurological departments (3 for adults, and 1 pediatric), 3 in-patient neurosurgical departments (2 for adults and 1 pediatric), 2 ICUs (adult and pediatric), 1 out-patient department, scientific Department of Neurology, scientific Department of Neurosurgery, Laboratory of clinical pathophysiology of nerve system. The center has 3 specialized working groups, which provide reference consultations for patients with myasthenia ("Republican Myasthenic Center"), dystonia ("Republican Center for Treatment of Patients with Dystonias"), and for patients with paroxysmal disorders, including epilepsy ("Republican Center for Paroxysmal Disorders"). It provides advanced care in complex neurological conditions, including plasmapheresis and selection of patients for thymectomy in myasthenia, botulinum toxin injections and DBS implantation for dystonia, DBS and lesional surgery for Parkinson's disease, microvascular decompression and rhyzotomy for trigeminal neuralgia, baclofen pump and selective dorsal rhizotomy for spasticity, spinal cord and peripheral nerve stimulation for chronic pain, neurosurgical treatment for pharmacoresistant epilepsy.
The Belarusian Society of Neurologists is a society member of EAN. Its chairman is Professor Sergei Alexeevich, MD, PhD, Doctor of Sciences Likhachev. The Society organizes educational programs, conferences and symposia, participates in international congresses and conferences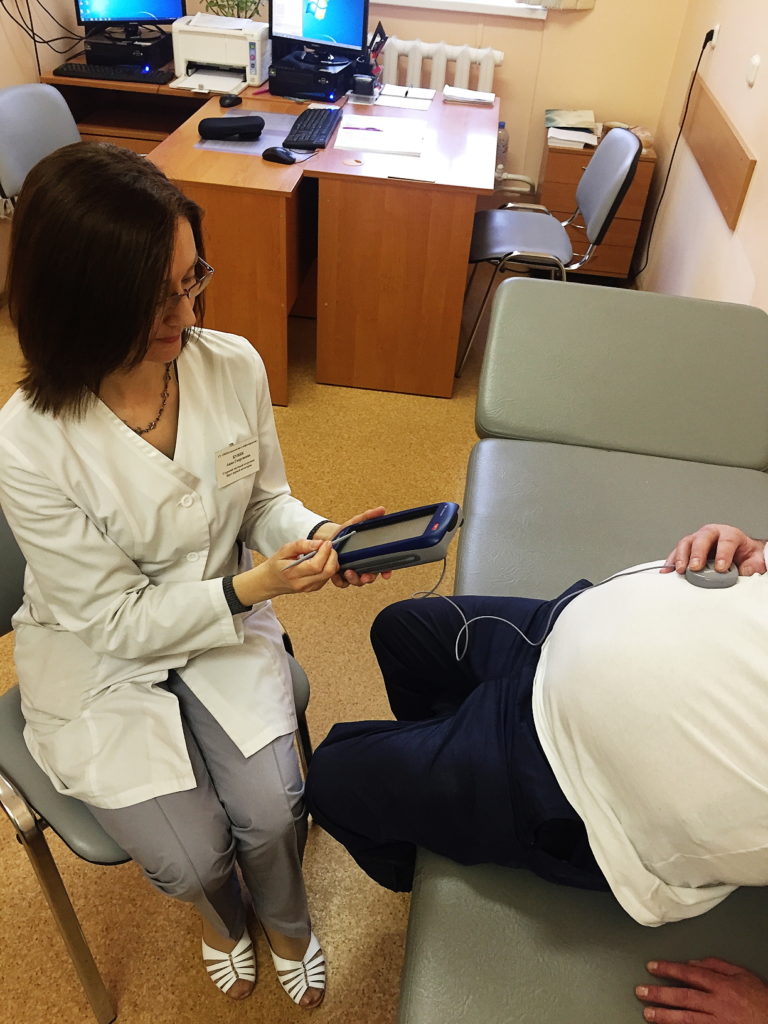 Programming DBS implant of the patient with Parkinson's disease at the Republican Research and Clinical Center of Neurology and Neurosurgery.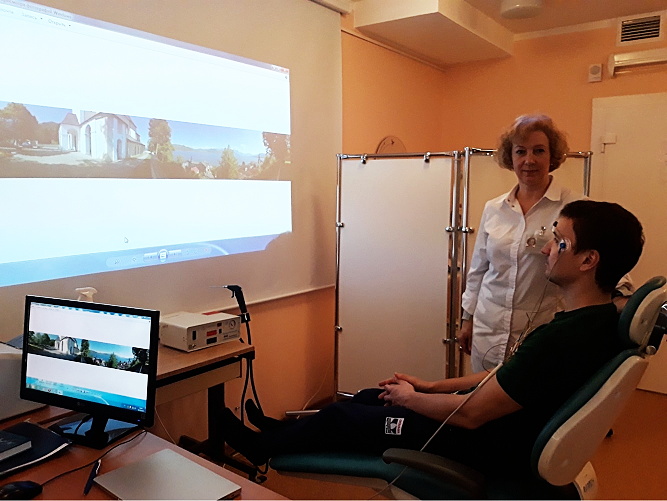 Studying electronystagmography while optokinetic stimulation at the Republican Research and Clinical Center of Neurology and Neurosurgery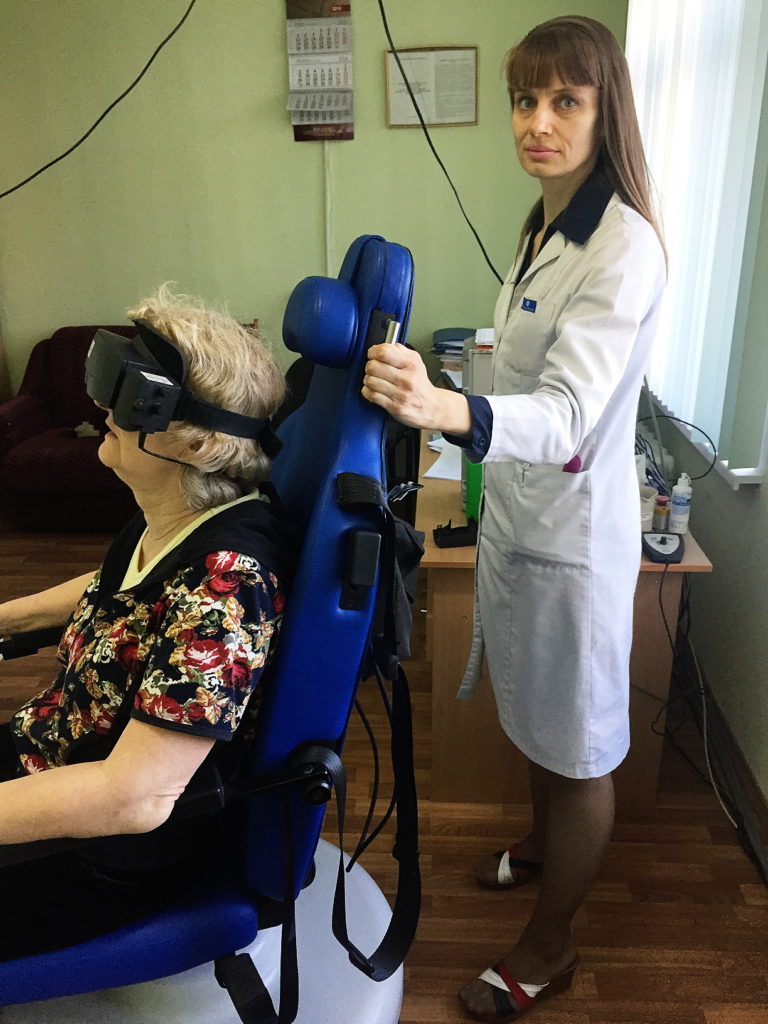 Studying videonystagmography while rotatory chair vestibular stimulation at the Republican Research and Clinical Center of Neurology and Neurosurgery
This article is prepared by Sergei A. Likhachev, Volha V. Hleb, Ivan S. Goursky, Republican Research and Clinical Center of Neurology and Neurosurgery.
Images: personal works of the authors, and retrieved from wikipedia.org (Narach lake, Sightseeings of Minsk, A view of Minsk with the Svislach river, Mir castle, Belarusian State Medical University).