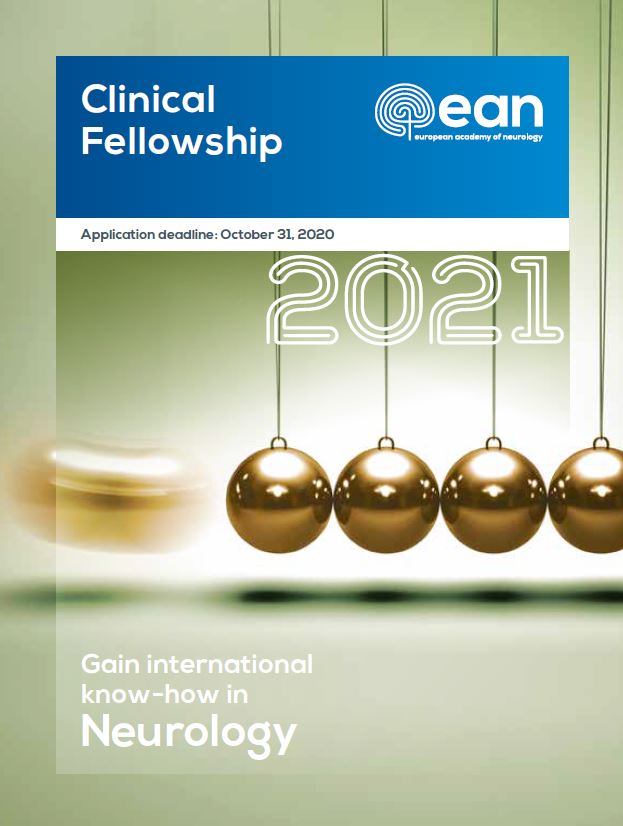 This EAN educational programme has long tradition. It allows neurologists that are still in the process of training, or recently qualified, to deepen their knowledge and learn about new methods. They can familiarise themselves with the service structures of host departments with recognised expertise in a specific field.
The programme is designed for neurologists from an EAN member countries for a stay of 6-12 weeks in a Hosting Department outside the country of residence. Starting from 2021, the number of granted weeks will be increased from 210 weeks (35x 6 weeks) to 300 weeks.
The grant for the programme will be 425,-€ per week, plus travelling costs (maximum of 300 Euro for travelling costs).
Applications from Neurologists interested in receiving a grant for 2021 are expected
by October 31, 2020
Please find more detailed information on application procedure and eligibility on our website:
https://www.ean.org/learn/fellowships-and-funding/clinical-fellowship
We are looking for neurological departments who would be ready to accept a visitor for a stay of 6 – 12 weeks.
If your department is not on the list of approved Host Departments, and you wish to participate in the 2021 Cinical Fellowship Programme, please send your department access form
by September 15, 2020.
Information for Host Departments – how to become involved and form can be found on the website: https://www.ean.org/learn/fellowships-and-funding/clinical-fellowship