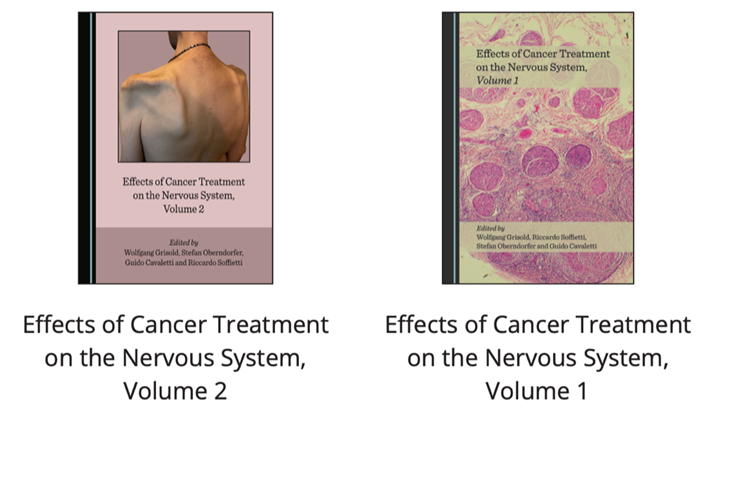 The book on complications of cancer therapy has been edited by 4 experienced editors; Cavaletti G, Grisold W, Oberndorfer St and Soffietti R and contains 35 chapters written by international experts in the field.
According to the WHO, cancer is the second leading cause of death globally. Despite the improvement of cancer treatment and concepts, neurological side effects of anticancer therapy remain frequent and are often associated with serious complications. Neurologists need to be aware of upcoming new oncologic treatment concepts and corresponding possible toxic side effects on the nervous system.
In addition, the classic combination of surgery, radiotherapy, chemotherapy and hormonal therapy, receives new approaches as targeted therapies, immune check point inhibitors and Car T cell therapies among others. In several cancer types, new treatment approaches prolong survival and may even cure patients. Thus a new category of cancer patients, long term survivors appear which may have transient or permanent damage of the nervous systems.
The volume 1 book focuses on the basic concepts of cancer, and also epidemiology in regard to neurological involvement. Measuring side effects by scales and scores is important, as well as the quantification of toxic effects.
The book contains several chapters on patient issues, as the involvement in study design, care for patients and families, patient groups, palliative care and also an analysis of the cancer situation on low and middle income countries.
The volume 2 book focuses of side effects of cancer therapies as surgery, chemotherapy, radiotherapy, targeted therapies, immune check point inhibitors and the armamentarium of emerging new cancer therapies.
The peripheral nervous system is discussed in detail in regard to cranial nerves, nerve roots, plexus and poly- and mononeuropathies, as well as the neuromuscular junction and muscle. The frequent and important topic of sarcopenia and cachexia closes this volume.
The book will facilitate and help to be able to find the accurate diagnosis in cancer patients, where neoplastic, hormonal and infection and rarely paraneoplastic causes are often difficult to discriminate from treatment side effects, but require an entirely different therapeutic approach.
The intention of this book is not only to point out and describe the numerous effects of cancer therapy, but also to update the present knowledge on neurotoxic side effects, and include general and in particular patient related issues.
Editors; W Grisold , Vienna; G Cavaletti , Monza; St Oberndorfer, St Pölten; R Soffietti , Turin.
Publisher: Cambridge Scholars, 2021