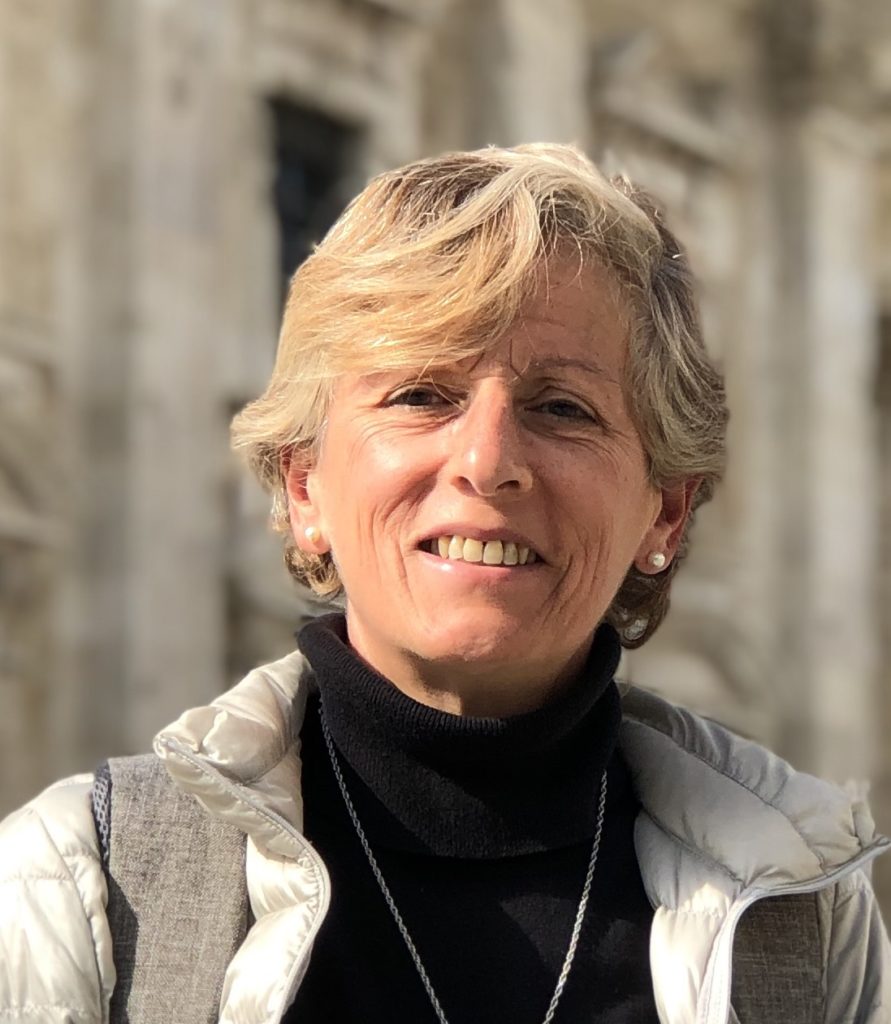 The interview below is a follow-up, nine months on from our previous interview with Emilia Gatto, MD, FAAN (left) Head of the Neurology Department at Sanatorio de la Trinidad Mitre and Head of the Movement Disorders Section of the Institute of Neuroscience Buenos Aires, INEBA (both affiliates of Buenos Aires University)
How has the COVID19 situation evolved in your region? What is improving and what challenges are emerging? How are you addressing issues such as vaccination and long COVID?
In December 2019 a new world began. In Argentina the Sars-CoV-2 infection was initially assumed as a remote condition, but the reality was immediately undisputable.
In March 2020, to avoid virus spread and to protect public health, the Argentinian Government announced a mandatory quarantine of two-weeks; however, several successive extensions were established until November 2020, and later during the second wave a new lockdown was implemented until August 2021.1,2
WHO and the Centers for Disease Control and Prevention agencies recommended a lockdown as a pivotal mechanism, taking into account old-style public health measures that included isolation, quarantine and social distancing in order to contain the disease spread rates.3 There was an initial public agreement with these measures.
Despite the preliminary sanitary measures adopted, the COVID-19 pandemic had a rising burden of disease and mortality, with significant consequences in several domains other than public health. In our country, having the whole population under quarantine was unprecedented and the subsequent impacts were unknown1. In the next paragraphs I will try to describe how the pandemic developed.
To introduce the situation, I have to mention that Argentina is a developing country 4 with a total population of 45.38 million. As has been mentioned in the literature, the pandemic impacts significantly in countries with low income, and Argentina is no exception to this rule. During 2020 the gross domestic product fell 9.9%; urban poverty increased from 35.5% in 2019 to 40,6% of the population in the first semester of 2021; poverty in childhood, for children under 14 years old, is at 54,3%. 4
At present, a total number of 5,288,807 infected people has been reported, with a high death toll: 115,950 deaths constituting a rate of 2,551.31 deaths per million inhabitants5. The first significant peak occurred in October 2020 with a second wave during June-August 2021, with a significant decrease in the last couple of months (September/October 2021) 5.
The percentage of full vaccination coverage reached about 58.67% (John Hopkins University) 5– 62.8% (Official Data) 6 of the population, with 83% of the population having received one shot of the Covid-19 vaccine, according to official data6.
The vaccination schedule started on December 2020; a gradual scheme of vaccination had been planned. The first population to be vaccinated was health personnel. The next step involved adult people >70 years old, with a gradual incorporation of the other segments of the population, and nowadays, a vaccination campaign includes children between 3-11 years old (SARS-CoV-2 (cell vero).: Beijing Institute of Biological Products – Popular China Republic – Sinopharm). The latter indication, even before the tests of the producing country.
Although Argentina was involved in several vaccines' clinical trials (Pfizer-BioNTech COVID-19 Vaccine), the only available vaccine during the first months of 2020, was Gam-COVID-Vac (Gamaleya Institute Russia- Sputnik V) due to a government decision. This vaccine has been approved on an emergency basis by the local regulatory agency, but it is still lacking WHO approval (Resolution 2784/2020).
In the last year, faced with the irregular supply of second doses of Sputnik V and the rapid increase in the number of cases, a combination of vaccines has been administered: Sputnik V-ChAdOx1 nCoV- 19 Corona Virus Vaccine (Recombinant); Astra Zeneca, ChAdOx1 nCoV- 19 Corona Virus Vaccine (Recombinant); Sputnik V- Sinopharm, and more recently the country accepted donations from Pfizer and mRAN-1273 COVID-19 Moderna Switzerland GmbH vaccines. It is estimated that to date, vaccination coverage in the country has reached about 59% of the population, and the population aged 3-11 years with Sinopharm vaccine is currently being incorporated.7,8 This situation contributes significantly to the decrease in the number of cases and allows for a relaxation of social restrictions.
With respect to the neurological manifestations of COVID-19, a multicentre registry has been established by the Argentinian Neurological Society, including 817 adult individuals (52% males), from May 2020 to January 2021. The neurologic manifestation occurred as initial manifestation in 56.2% of the cases. It was characterised by headache (69% of cases), anosmia/ageusia (66%), myalgias (52%), allodynia/hyperalgesia (18%), and asthenia (6%). Encephalopathy or seizures occurred in 3.2%. Cerebrovascular disorders were reported in 1.7%, while sleep disorders were identified in 3.2%. Guillain Barré syndrome was present in six patients, peripheral neuropathy (in 3.4%), tongue paresthesia (0.6%), hearing loss (0.4%), and plexopathy (0.3%)9.
On the other hand, we have to keep in mind a large number of other secondary pandemic conditions. Among them 'long Covid' has recently been recognised, with pleomorphic manifestations. In this field, local research described the presence of persistent mild symptoms in 52% of patients after the acute phase. Fatigue, cough, insomnia and anxiety were the most frequent symptoms10.
We have identified a large number of secondary consequences and inequities of the pandemic that need our attention. A significant delay in cancer and stroke diagnosis and treatment, increases in suicide, depression, alcohol consumption, domestic violence, cognitive impairment, as well as mood and neuropsychiatric impacts.
The mandatory extensive lockdown, social isolation, school closures, inadequate mass communication and the economic shutdown on jobs constituted additional risk factors for all previously mentioned conditions.
Although the introduction of the mandatory lockdown was necessary to flatten the contagion curve, its application resulted in collateral adverse events. Table 1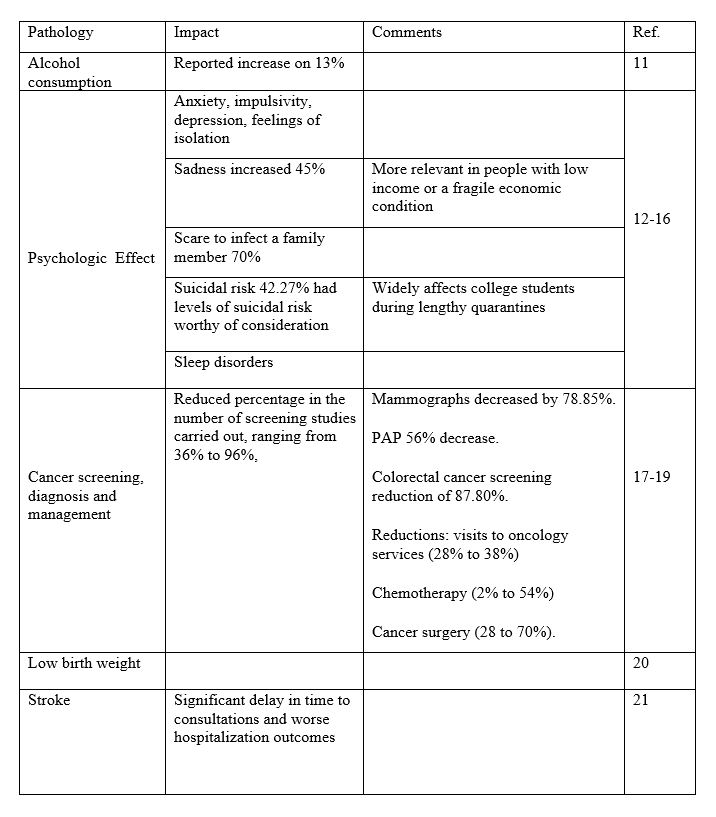 Extreme poverty is also on the rise in Argentina, with 10.7 percent of the population now classified What lessons have you learnt from dealing with COVID19 since the start of the pandemic? How are you integrating these lessons into current clinical care practice for your patients?
The main lesson that I have learnt:
Health professionals and the population in general need to be empowered with reliable and adequate information.
In our region we need to separate sanitary actions from political decisions (for instance some political decisions led to a delay in access to vaccination)
Although, the economic situation represents an emergency, education appears to be the main factor to improve the human condition (UNICEF, October 2021).
In this sense, we have identified a high index of school abandonment, poor access to health services due to many factors, such as limited access to the internet or to other technological devices (UNICEF, October 2021)22.
Although education and health might appear unrelated, both are crucial for improving the quality of life and the distribution of resources in the health system.
Telemedicine in our country is limited by the previously mentioned reasons. Nevertheless, health services are facing a tremendous challenge between the classic health system and telemedicine23,24,25. This technological revolution, as well as different home monitoring devices and several technological tools have contributed to reducing the gap. Although telemedicine has been a very useful tool during the pandemic, it was not the ideal tool. Moreover, in some cases it had a negative impact on the recognition of physicians and health professionals.
We have to empower and educate our population to improve our health and quality of life.
What are your hopes and fears for the future? What do you think are the necessary next steps to deal with this pandemic?
The global hope is the end of the pandemic.
I agree with other authors1,8; our next steps have to:
Guarantee access to health services and the use of communication technologies for remote patient assessment and monitoring.
Empower patients through communication and education programmes for control of risk factors and to self-assess for early diagnosis.
Reduce the gap between health and economy with a rational and scientific approach to guarantee protective measures of health, based on the best available evidence adapted to the resources at hand and the characteristics of the health system.
Establish operational and economic norms to facilitate the implementation of telemedicine.
Create local and international networks for diagnosis, management, treatment and exchange of knowledge and technology.
In conclusion, the Covid pandemic provides a great opportunity for our society to guarantee transparency, avoid corruption, improve health and well-being and reduce inequalities.
Acknowledgements
To Ms Ana Lidia Abalo for her English editing
To all my colleagues who fought and continue to fight in these difficult times
References
Misculin, N (20 May 2021). "Argentina announces 'circuit-breaker' lockdown as pandemic rages". Reuters. Retrieved 24 May 2021.
Wilder-Smith A, Freedman DO. Isolation, quarantine, social distancing and community containment: pivotal role for old-style public health measures in the novel coronavirus (2019-nCoV) outbreak. J Travel Med. 2020 Mar 13;27(2): taaa020. doi: 10.1093/jtm/taaa020. PMID: 32052841; PMCID: PMC7107565.
https://coronavirus.jhu.edu/region/argentina (October 2021, Johns Hopkins University)
https://www.batimes.com.ar/news/argentina/government-approves-sinopharm-vaccine-for-children-aged-3-to-11.phtml
Lucas Alessandro, Franco Appiani, Mariana Bendersky, Brenda Borrego Guerrero, Guadalupe Bruera, Patricia Cairola, Ismael Calandria et al.Registry of neurological manifestations due to coronavirus-19 (COVID-19). Neurol Argentina 2021, 13: 84-94
Prieto MA , Prieto O , Castro HM. Long-Covid: cross sectional study. http://dx.doi.org/10.31053/1853.0605.v78.n1.32048
Vera BDV, Carmona-Márquez J, Lozano-Rojas ÓM, Parrado-González A, Vidal-Giné C, Pautassi RM, Fernández-Calderón F. Changes in Alcohol Use during the COVID-19 Pandemic among Young Adults: The Prospective Effect of Anxiety and Depression. JClin Med. 2021 Sep 28;10(19):4468. doi: 10.3390/jcm10194468. PMID: 34640485; PMCID: PMC8509511.
López Steinmetz LC, Fong SB, Godoy JC. Suicidal risk and impulsivity-related traits among young Argentinean college students during a quarantine of up to 103-day duration: Longitudinal evidence from the COVID-19 pandemic. Suicide Life Threat Behav. 2021 Aug 27. doi: 10.1111/sltb.12799. Epub ahead of print. PMID: 34453361.
López Steinmetz LC, Godoy JC, Fong SB. A longitudinal study on depression and anxiety in college students during the first 106-days of the lengthy Argentinean quarantine for the COVID-19 pandemic. J Ment Health. 2021 Jul 24:1-10. doi:10.1080/09638237.2021.1952952. Epub ahead of print. PMID: 34304678
López Steinmetz LC, Dutto Florio MA, Leyes CA, Fong SB, Rigalli A, Godoy JC. Levels and predictors of depression, anxiety, and suicidal risk during COVID-19 pandemic in Argentina: the impacts of quarantine extensions on mental health state. Psychol Health Med. 2020 Dec 24:1-17. doi: 10.1080/13548506.2020.1867318. Epub ahead of print. PMID: 33356541.
Appiani FJ, Rodríguez Cairoli F, Sarotto L, Yaryour C, Basile ME, Duarte JM. Prevalence of stress, burnout syndrome, anxiety and depression among physicians of a teaching hospital during the COVID-19 pandemic. Arch Argent Pediatr. 2021 Oct;119(5):317-324. English, Spanish. doi: 10.5546/aap.2021.eng.317. PMID: 34569739.
Micheletti MB, Cafiero P, Nápoli S, Lejarraga C, Pedernera Bradichansky P,et al. Sleep problems in a sample of children with developmental disorders, before and during the COVID-19 pandemic.Arch Argent Pediatr. 2021 Oct;119(5):296-303. English, Spanish. doi:10.5546/aap.2021.eng.296. PMID: 34569736.
de Degani GL, Duarte L, Ismael J, Martinez L, López F. The impact of the COVID-19 pandemic on cancer care in the public health subsector, province of Santa Fe, Argentina. Ecancermedicalscience. 2021 Jul 26;15:1270. doi: 10.3332/ecancer
Vázquez Rosas T, Cazap E, Delgado L, Ismael J, Bejarano S, Castro C, et al. Social Distancing and Economic Crisis During COVID-19 Pandemic Reduced Cancer Control in Latin America and Will Result in Increased Late-Stage Diagnoses and Expense. JCO Glob Oncol. 2021 May;7:694-703. doi: 10.1200/GO.21.00016. PMID: 33999696; PMCID: PMC8162975.
Vasquez L, Sampor C, Villanueva G, Maradiegue E, Garcia-Lombardi M, Gomez-García W, Moreno F, et al. Early impact of the COVID-19 pandemic on paediatric cancer care in Latin America. Lancet Oncol. 2020 Jun;21(6):753-755. doi: 10.1016/S1470-2045(20)30280-1. Epub 2020 May 18. PMID: 32437662; PMCID: PMC7234788.
Cuestas E, Gómez-Flores ME, Charras MD, Peyrano AJ, Montenegro C, et al. Socioeconomic inequalities in low birth weight risk before and during the COVID-19 pandemic in Argentina: A cross-sectional study. Lancet Reg Health Am. 2021 Oct;2:100049. doi:10.1016/j.lana.2021.100049. Epub 2021 Aug 21. PMID: 34642686; PMCID: PMC8495179.
Pujol-Lereis VA, Flores A, Barboza MA, Abanto-Argomedo C, Amaya P, Bayona H,et al. Latin American Stroke rEgistry (LASE) COVID-19 Collaborators.. COVID-19 Lockdown Effects on Acute Stroke Care in Latin America. J Stroke Cerebrovasc Dis. 2021 Sep;30(9):105985. doi: 10.1016/j.jstrokecerebrovasdis.2021.105985. Epub 2021 Jul 3. PMID: 34284323
https://www.unicef.org/argentina/media/8996/file/Child%20Poverty%20and%20COVID19%20in%20Argentina.pdf
Di Tommaso F et al. WhatsApp Consultations in the Department of Electrophysiology of a Public Hospital of the City of Buenos Aires in Times of COVID-19. Rev. argent. cardiol. [online]. 2020, vol.88, n.3 doi.org/10.7775/rac.es.v88.i3.17976.
Sebastian Fortini, Alberto Espeche, Roberto Caraballo,Telemedicine and epilepsy: A patient satisfaction survey of a pediatric remote care program, Epilepsy Research,2020; 165, 106370, ISSN 0920-1211, https://doi.org/10.1016/j.eplepsyres.2020.106370.
Hassan A, Mari Z, Gatto EM, Cardozo A, Youn J, Okubadejo N, Bajwa JA, Shalash A, Fujioka S, Aldaajani Z, Cubo E; International Telemedicine Study Group. Global Survey on Telemedicine Utilization for Movement Disorders During the COVID-19 Pandemic. Mov Disord. 2020 Oct;35(10):1701-1711. doi: 10.1002/mds.28284. PMID: 32833273; PMCID: PMC7461376.