Report from 6 weeks in Geneva
by Ioanna Kaisari
visiting the Division of Neurology in Geneva University Hospital in June-July 2022
I spent six weeks on my EAN Student Teaser Fellowship in the Division of Neurology in Geneva University Hospitals in 2022 .
Initially, I joined the team of General Neurology where I was engaged in hospital duties. Spending time in this unit equipped me with a better understanding as to the process of treating patients.
After having obtained a detailed clinical history and having examined the patients, my duties included filling in the note of admission and completing the prescriptions (medical treatment, physiotherapy, ergotherapy etc.) where necessary; then I discussed the condition of the patient with my clinical director. In the following days, I wrote daily reports on their progress and exit papers, in cooperation with my supervisors. During my stay in the general neurology department, I was fascinated by the number of different cases I encountered. Ranging from an ADEM probably postCOVID, an orbital myositis, multiple sclerosis attacks to Guillain Barré syndrome, epilepsies, myasthenias and well-established Parkinson's Disease. More specifically, we attended to patients with deep brain stimulation, and we introduced apomorphine pumps. Once a week I presented my patients to the director of the Division of Neurology.
In between our tasks, we had regular meetings with the Neuroradiology Department and with the Neuroimmunology unit to discuss interesting cases. We also attended neurology courses and presentations. I was also fortunate to attend a meeting among neurologists, neurosurgeons, and radiologists concerning a patient with a newly diagnosed glioma.
I spent my last days following up patients in the Neuroimmunology and Neurovascular unit. In the
Neuroimmunology unit, I was given the opportunity to examine patients diagnosed with common neuroimmunology disorders as I did while in the general neurology unit, as well as patients with rare syndromes such as Susac syndrome, seronegative neuromyelitis optica, and progressive multifocal leukoencephalopathy. Being in the neurovascular unit offered me valuable insight into different causes of strokes.
All in all, I must admit that attending this neurological department was an exciting experience that brought me closer to a wide range of diseases that I had not encountered as a medical student. I examined many patients, followed their recuperation, and studied the literature on these rare diseases. This fellowship allowed me to interact with and learn more about Switzerland's National Health System as I'm aspiring to be employed in such a challenging environment given the opportunity.
---
Report from 11 weeks in Basel
by Ferdane Cetin
visiting the Department of Biomedical Engineering, University of Basel, in June-September 2022
The Translational Imaging in Neurology (ThINk) group is where one can witness fantastic teamwork and collaboration between different disciplines. The group comprises people with backgrounds from computer science to neuroradiology and electronic engineering to clinical neurology; similarly, very international, with people coming from places as far afield as Taiwan, Mexico, Turkey, and China. It was a great chance to witness the roles and tasks of people doing research with different specialties.
The main focus of the ThINk group is developing new methods, upgrading pipelines for multiple sclerosis disease imaging, and enriching our understanding of the relationships between clinically useful imaging tools and disease pathophysiology.
It requires a high level of communication and interdisciplinary working knowledge to perform well in an environment like that.
Upon my arrival, I started to learn more about coding, image segmentation algorithms, and software used for brain MRI screens. Doing so, I got involved in one of the ongoing research studies and started evaluating the brain MRI images of MS patients in different sequences like T1, T2, FLAIR, and QSM. With the applications specialised for these tasks, I had to troubleshoot automated pial and dural cortices and segmentations. I used these surfaces to extract cortical thickness values of MS patients. MS patients' brains had multiple lesions, causing problems with the software since it was designed for healthy human brains. I had to consider many variables and arrange the pipelines used for the process.
At the end of 11 weeks, I gave a presentation about my work to department members, and they asked me to continue working on the project online. I have been working on biostatistical analyses as part of our project. And I am very excited to see and present the results in an upcoming neurology congress.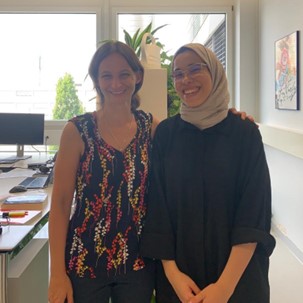 This internship mainly taught me the importance of being flexible in research processes and, keeping one's curiosity sharp and keen toward new topics and abilities, always being ready to learn more.  It was my great pleasure to complete this 11-week EAN Student Teaser Fellowship under the supervision of Prof. Cristina Granziera. I am very grateful to the EAN Education Department for making this dream possible.
…
---
Report from 6 weeks in Salzburg
by Katarzyna Zięba
visiting the Christian-Doppler-Klinik in Salzburg in September-October 2022
Thanks to this EAN Student Teaser Fellowship I could spend almost six fruitful weeks at Universitätsklinik für Neurologie, neurologische Intensivmedizin und Neurorehabilitation Christian-Doppler-Klinik in Salzburg, Austria. During this fellowship, I developed not only my medical knowledge, but also my language proficiency.
Most of the time I spent at the general ward, where I had the opportunity to learn not only about common neurological conditions such as stroke, but also rare diseases such as immune-mediated necrotizing myopathy. I could also discover the secrets of magnetoencephalography (MEG) and electroencephalography (EEG). Moreover, I had the chance to take part in my first 24-hour shift. I am grateful for this experience. Thank you, Dr Lara Bieler! Furthermore, due to taking case history I could improve my German. Additionally, I had the possibility to participate in weekly epilepsy team meetings, during which a team of specialists consisting of neurologists, neurosurgeons, and neuropsychologists present and discuss complicated medical cases. It was a stimulating experience to learn from world-famous experts.
I couldn't forget the wonderful Salzburg. This fabulous city surrounded by the Alps impressed me favorably. I felt like on a movie set. During this fellowship, taking advantage of this opportunity, I took part in my first Oktoberfest in Munich and explored Hallstatt.
At the end, I would like to thank all the team of the Salzburg Hospital, who welcomed me warmly. I am convinced that this fellowship will help me make a decision about my future medical career.
Thank you, EAN!
---